Hello Friends!
Brrrrrrrr! It sure was chilly this morning when I woke up. The Children's Garden looked much different today than it did when I woke up yesterday morning. The ground was covered with just a hint of snow and the trees and daffodils were covered in just enough ice to make them sparkle.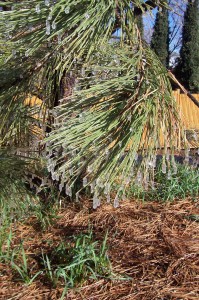 I have been a very busy Marmot these last few weeks! I've made two new friends named Mr. and Mrs. Mallard. I often run into the Mallards early in the morning and late in the afternoon when they stop by Pipsqueak Pond for a snack. Watching them dunk there heads under water to search for food is always so interesting to watch. I didn't see my friends this morning, but I did see the foot prints in the snow they left behind. I hope I will run into them this afternoon.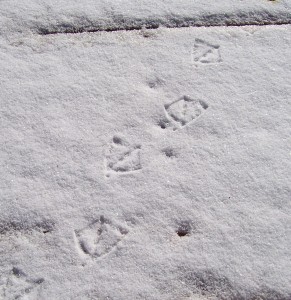 I have been busy overseeing construction of the Home Harvest Garden. Our gardeners and amazing group of volunteers have been working hard building new raised beds for the garden. I've also been trying to decide which vegetables we should plant in the garden once construction is finished. Do you grow any vegetables at home? What is your favorite type of vegetable to grow?
The warm sunshine is quickly melting away any sign of yesterday's spring snow. I'm off to enjoy this nice sunny day.
Hope to see you soon!
Your Friend,
Digger