Light in Bloom: The Projections of Blossoms of Light
December 9, 2022
Special Events
Over the years, Blossoms of Light has become a can't-miss holiday tradition for many in the Denver metro area. With snow on the ground, hot beverage in hand and over a million twinkling lights above, it is hard to imagine a better way to enjoy a chilly winter evening. 
The breathtaking natural beauty of the Gardens poses a unique challenge for the York Street events team, which is tasked with designing the annual event. Keeping the show fresh and exciting year after year requires constant exploration of new technology and methods to dazzle the eye.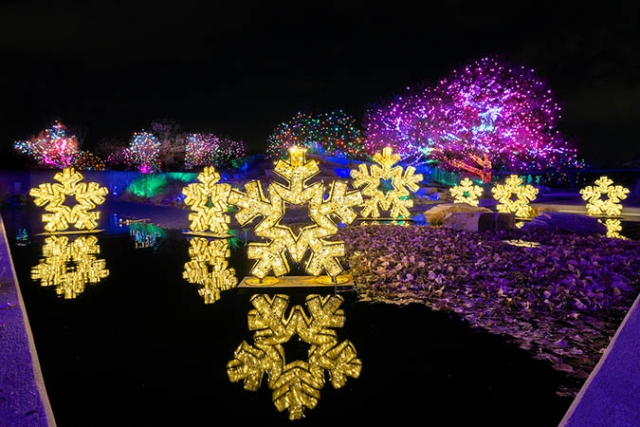 This year, the Gardens collaborated with Denver-based interactive media artist and creative technologist Sara Minerd of LUCIA Visuals to design the floral-inspired abstract projections featured on the Science Pyramid. Drawing inspiration from the vibrant color palette of the Gardens and honeycomb paneling of the Science Pyramid's exterior, LUCIA takes guests on an animated journey through all four seasons. Watch as winter flurries give way to spring buds and striking summer blooms over the course of the 18-minute video loop, played continuously each night. 
Customizing the video to fit the shape of the Science Pyramid was no small feat. Through the intricate process of projection mapping, a technique used to display projected imagery onto an irregularly shaped surface, the team tailored the animations to seamlessly fit the structure. Two professional-grade laser projectors, affixed within the surrounding gardens, are used to achieve crisp lines, bold contrast and dynamic pops of color worthy of a flower bed.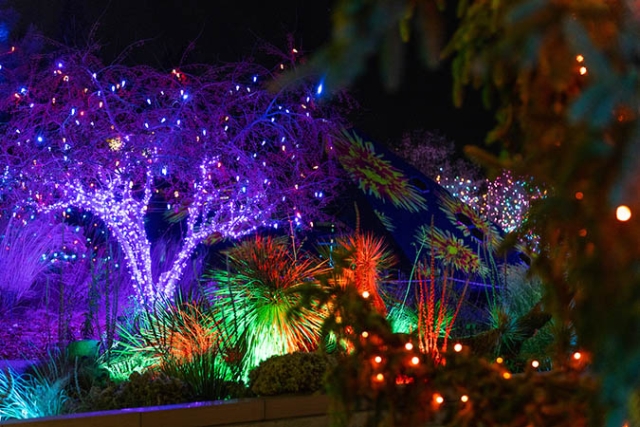 Don't miss your chance to experience Blossoms of Light, open most nights through January 7 (closed December 25). Many dates have already sold out, so get your tickets before they are gone!  
Have a special occasion in mind? Brighten up your next event at Blossoms of Light.