The High Line Canal: Which plants green this greenway?
June 18, 2018
Christina Alba
, Assistant Research Scientist
Water means life everywhere on Earth. But people in semi-arid regions understand this with a clarity born of living in time-step with the rhythmic greening and re-greening of the landscape around them. Anyone who has experienced the sepia-toned end to a Colorado winter has marveled that any flush of life could regenerate from such a hunkered-down thirst. And while our native plants are typically drought-tolerant, the human need of food, fiber, and an inviting shade tree, is less so. To meet these needs, early settlers in many parts of our state tamed the waterways with canals, moving water from mountain to plain, shortening the beat of time during which crops, street trees, and lawns had to go without water. Over time, plants, animals, and people have coalesced along these canals; these ramifying arteries that literally, and in many ways spiritually, sustain life along their banks.
The 130-year-old High Line Canal is one such artery, spanning 71 miles from the foothills to the plains, traveling through urban and suburban areas in Denver and the surrounding region. Since 1883, the Canal has been a part of the fabric of the region. The Canal draws water from the South Platte River, beginning at a diversion dam in Waterton Canyon near Littleton and running northeast to Green Valley Ranch. What results is a connective corridor that wends itself through various habitat types, from rugged and wild riparian stretches in the western canyon, to areas reminiscent of native shortgrass prairie in the east. The Canal corridor also passes through many highly developed areas, providing easily accessible green space to thousands of people. A pivotal point in the history of the Canal occurred in the 1970s, when Denver Water opened its maintenance roads, previously patrolled by early "ditch-riders", to the public. The Canal trail now serves as a recreational hub for walkers, runners, bikers, and horseback riders in the region.
From a botanical perspective, the High Line Canal presents an interesting puzzle. Human settlement along the Canal has led to conversion of the surrounding native ecosystems to other land uses. Much of the Canal's stretch runs through what was historically flat to rolling plains underlain by sandy to silty soils. The grasslands supported native shortgrasses such as blue grama (Bouteloua gracilis) and buffalo grass (Buchloe dactyloides) and a diversity of forbs such as sand lily (Leucocrinum montanum) and scarlet globe mallow (Sphaeralcea coccinea), to name a few. However, increasingly, the Canal's greenway is surrounded by a built landscape of housing, businesses, and roads. And while there are often pockets of green space that punctuate the built landscape in the form of parks and gardens, these areas may be planted in monocultures (think Kentucky Bluegrass lawns) or contain cultivated plants that are not representative of the region.
The question then becomes, what exactly greens this greenway? Botanical staff and volunteers from the Gardens are spending more than 50 field days on the Canal this summer working to answer this question. (Look for us out on the Canal wearing blue "Researcher" vests, and feel free to stop and ask questions!) We are making plant collections and taking quantitative ecological data on plant communities along the Canal's entire length from May to September 2018. The Gardens is working on behalf of our funding partner, the High Line Canal Conservancy, which will use the survey data to inform management decisions (see the Conservancy's website for more information on the Vision Plan for the Canal).
So far, our early spring surveys suggest that the flora along the Canal represents a mix of native and non-native plants. For example, it is typical to find native chokecherries (Prunus virginiana), cottonwoods (Populus deltoides), and coyote willow (Salix exigua) mingling with non-native buckthorn (Rhamnus cathartica) or honeysuckle (Lonicera tartarica) along the banks of the canal. There have also been some unexpected native gems, including the uncommon Blue Ridge carrion flower (Smilax lasioneura), which is present in only a few counties in Colorado but was happily growing along the trail in Waterton Canyon! When the data are in, we expect to uncover interesting variation in the make-up of the Canal's plant communities in relationship to both the west-to-east ecological gradient, and the wild-rural-urban matrix that surrounds the trail. Stay tuned for updates as the field season unfolds!
Excerpted and adapted from original publication in Aquilegia, the quarterly publication of the Colorado Native Plant Society.
Gallery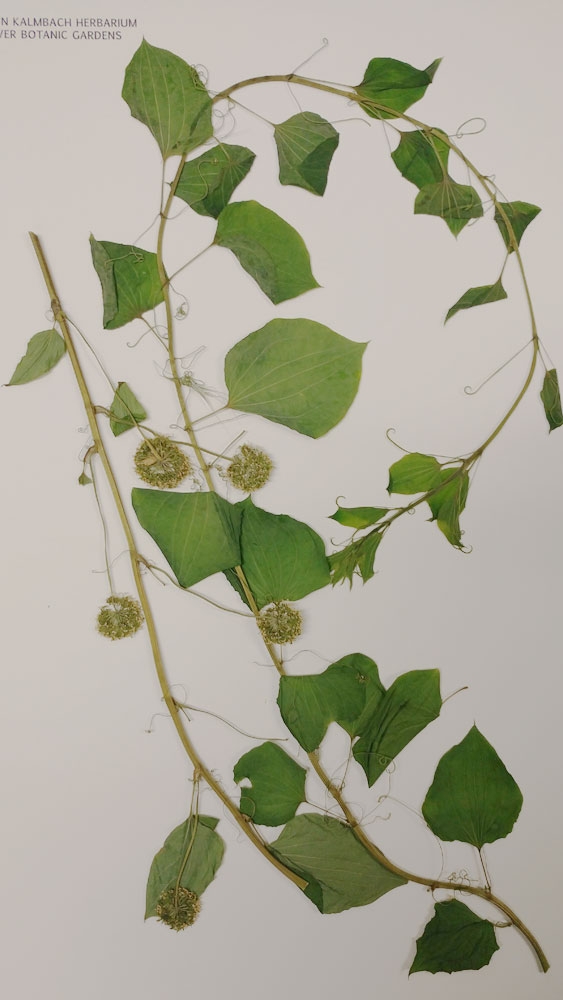 Comments
Thank you DBG
Thanks to DBG leadership and field work, our plant and landscape guidelines will be sensitive to the unique and varied eco-system that develops along our treasured 71 mule Canal! Harriet. High Line Canal Conservancy
Loving this great collaboration!
Denver Botanic Gardens is happy to deepen our understanding of plant communities along the Canal. While out surveying we have spoken with dozens of recreationists who are also excited to learn more!
High Line picture collection
This is great work! I've regularly walked many areas along the canal for 7+ years and have a fairly large pic collection of plants/ flowers I've come across. If you would like me to send them to you please let me know.
Add new comment