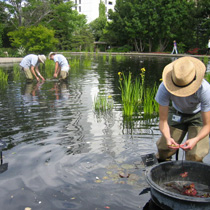 The whirlwind of spring activities is well underway here at the Gardens but in a few weeks fresh energy in the form of our class of summer horticulture interns will be adding to the mix.
Denver Botanic Gardens Internship Program dates back to 1976. Since inception, hundreds of budding horticulture professionals have gone through the program, and today they are educators, landscape professionals, public garden horticulturists and more.
This year eight enthusiastic and talented students will be working alongside our horticulture staff, learning about the art and science of gardening in a public garden. They come to us from across the country, representing horticulture programs at South Dakota State University, University of Wisconsin River Falls and Madison, Virginia Tech, Colorado State University and Front Range Community College.
After fall clean-up in the garden and before the rush of spring planting arrives, many winter hours are spent preparing for our summer interns. Horticulture staff members develop projects and classes, recruit and interview applicants to the program, organize orientation activities, learning opportunities and a variety of fieldtrips for the summer.
While the interns are here, they work side-by-side with our team of professional horticulturists performing daily garden maintenance tasks. They also work on an individual project and team projects. All of these experiences provide them with valuable hands-on experience, enhance their horticultural knowledge and introduce them to career options within the field.
These unique opportunities are available thanks to generous donors who have created endowments or made donations specifically for the purpose of furthering the education of our next generation of horticulture professionals. Numerous members have also kindly opened their homes, providing housing to the out-of-state students. These resources, along with our horticulture staff who love to share their knowledge, work together to create a memorable summer for our interns.
May and the arrival of our summer interns are just around the corner. Who knows, I may work with my future replacement this summer!