Eyes on the (garden) ground: Tracking plant dispersal & movement at York Street
September 21, 2023
Christina Alba
, Assistant Research Scientist
When strolling through a public garden in peak bloom, where the colors and smells of expertly designed spaces mingle and meld, visitors often feel transported to a joyful place. The sensory tableau that gardens provide has positioned them as one of the fastest-growing cultural attractions in the world. Beyond their cultural value, gardens have unique scientific value, operating as historical repositories of curated living collections. For example, did you know that Denver Botanic Gardens is an accredited museum? That's right! Our living collections (gardens) are curated to the highest standards required by the American Association of Museums.
What exactly does curation entail? For our living collections, we accession and map individual plants as they go into the ground and create labels with the plant's scientific name and location of origin to aid in interpretation. Such meticulous curation of our garden plants, coupled with the daily monitoring of garden health by staff horticulturalists, creates a unique situation: We know when and where individuals of a particular species are planted, and we can track the movement of those individuals – sometimes unintentional or even unwanted – over time.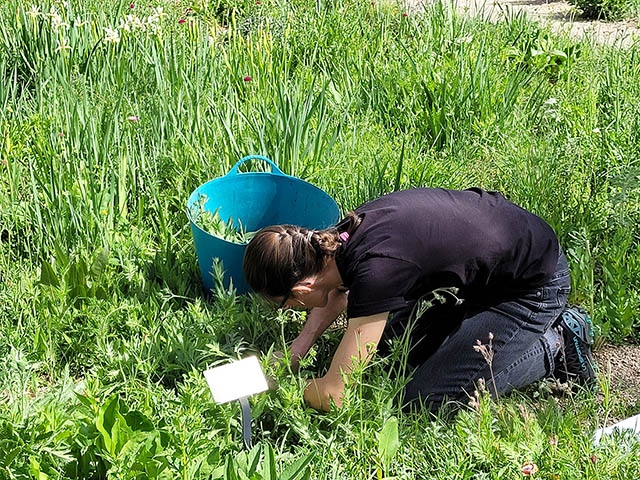 Assistant Manager of Plant Records Jen Toews takes data. 
For plants that originate from outside Colorado and nearby areas, such information may be the first of its kind detailing how the plant performs in our region. If it reproduces or spreads in an undesirable way, documenting that pattern can inform future decisions, including whether a particular species is not a good candidate for introduction to the nursery industry. Conversely, species that show no indication of problematic spread could be elevated as good horticultural options.  
Given the Gardens' unique ability to capture this critical, early information on plants new to the region, the Horticulture Department and Research & Conservation Department have teamed up to undertake yearly data collection on plants deemed of interest. The data includes biological characteristics of the plant (Is it a prolific seeder? Does it spread vegetatively?), patterns of spontaneous spread (or lack thereof) among garden beds and information aggregated from other sources, for example whether the species is naturalized or considered problematic in adjacent states.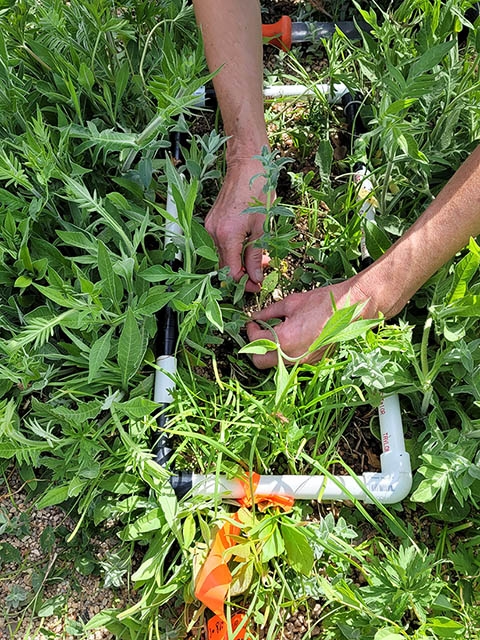 Counting seedlings.
Botanic gardens are increasingly assuming the mantel of plant and habitat conservation. As part of this evolution, the botanical and research expertise held by gardens staff members can be harnessed in new ways. Check out the post from horticulture intern Sarah Luper, who shares her experience helping to launch this new data collection effort at the Gardens.