Eternal Greece
January 23, 2020
Panayoti Kelaidis
, Senior Curator & Director of Outreach
Join us on a magical "Garden of the Gods" tour to Greece!
Last year I had the privilege of revisiting Greece in the spring at the height of super bloom season in April. Like most Mediterranean climates, the bulk of wildflowers in Greece bloom during the first weeks of early spring as the cool late winter rains taper off and the warmth of summer beckons. To see the brilliant scarlet of poppies among the ancient marble columns of the ruins is inspiring.
The trip I led a year ago is being reprised this April by Sarada Krishnan, our director of horticulture and global initiatives. Coming as she does from another of Eurasia's great civilizations, with her enormous understanding of gardening, agronomy and floristics (not to mention possessing great charm and joie de vivre), you will enjoy yourself enormously in her company.
I am sure you will be astonished as I was to see choice "hot rock" ferns growing out of the crevices of the Acropolis, with the panoramic views of Attica on all sides, or finding bright pink, yellow, white and chocolate brown orchids in dizzy variety in the grassy meadows of Crete.
This trip is planned to coincide with peak bloom of bulbs, shrubs and herbaceous wildflowers in all the choice ancient sites of Attica as well as some of the most historic and scenic Greek Isles: Crete featuring both Knossos and Phaestos, the sacred island of Delos, the site of real Atlantis on Santorini and the rich and varied island of Naxos.
Where else can you combine such brilliant flowers in both the wild and quaint villages, with ancient history and the incomparable scenery of sea, stone and classic beauty?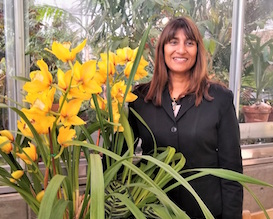 Sarada Krishnan has led the Horticulture Department at Denver Botanic Gardens for 14 years, as well as creating and leading the Center for Global Initiatives, extending the Gardens' knowledge to help create public gardens in Mongolia, Haiti and India. This fall Sarada is orchestrating an international symposium on "Steppe Feeds the World" at Denver Botanic Gardens, which will bring experts from Central Asia and other steppe regions.
Greece Gallery