Designing the Light Tunnel at Blossoms of Light
December 8, 2021
Special Events
Each year we strive to add new color combinations and displays to Blossoms of Light™, and this year is no exception: We are thrilled to debut our spectacular new 200-foot-long tunnel of animated lights! 
But creating the tunnel was no easy task. It took nearly a year of discussion, design and planning to bring it to life. 
Renovation Demands Re-imagination 
When we first learned that the O'Fallon Perennial Walk was being re-designed to incorporate a more modern, climate-appropriate collection of plants, we knew we had to come up with a new way to decorate the area. Right at the beginning of the path, the dense display of lights in this garden has long been a fan-favorite at Blossoms of Light. It would take something pretty impressive to fill the long, open garden in a year when the beds would be barren. Furthermore, to help protect the plants as they establish in the coming years, we wanted to develop a feature that could be utilized even after the garden is planted next spring. 
So You Wanna Build a Light Tunnel – What Next?
The special events team began researching different types of tunnels: DIY options, out-of-the-box models and custom designs were all on the table. Tunnels of this length and scale are rare, so we ultimately decided to pursue a custom creation that would give us the maximum amount of flexibility in both design and logistics. We partnered with a local décor fabricator to help bring our vision to life. 
Logistics, Logistics, Logistics!
Every aspect of the tunnel had to be planned in advance. How and when the feature would be installed, the construction materials, the shape and size, how to power it, how to secure it, how to store it, how to install it around plants in future years and crowd control were all part of the discussion. We worked closely with our operations and horticulture teams to ensure that the feature would be safe, stable and long-lasting.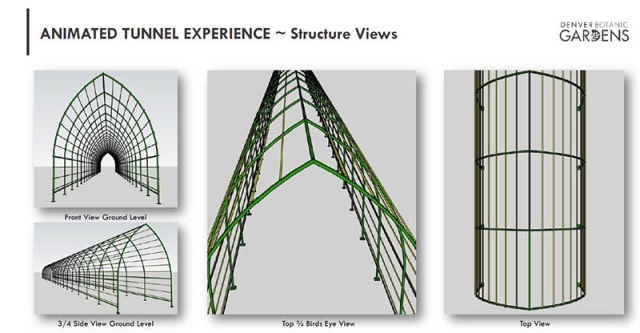 Painting the Canvas with Light
Once the structural questions were resolved, we moved on to the really fun part – designing the lights! We worked with a holiday lighting company to create the content you see on the tunnel today. Some of the content was developed from scratch, other scenes were pulled for existing portfolios, and even some of those were modified to best serve the needs of our display. We wanted to showcase the full range of what the tunnel can do – some scenes are soothing, beautiful arrays of moving color, while others are electric, synchronized shows that even the grinchiest observer will enjoy. The music for each scene, as well as the sequence, was carefully planned to create an immersive experience. 
After months of collaboration, design, construction, and installation, the finished product is as beautiful as it is mesmerizing. We are thrilled to share it with our Blossoms of Light audiences this year and for years to come!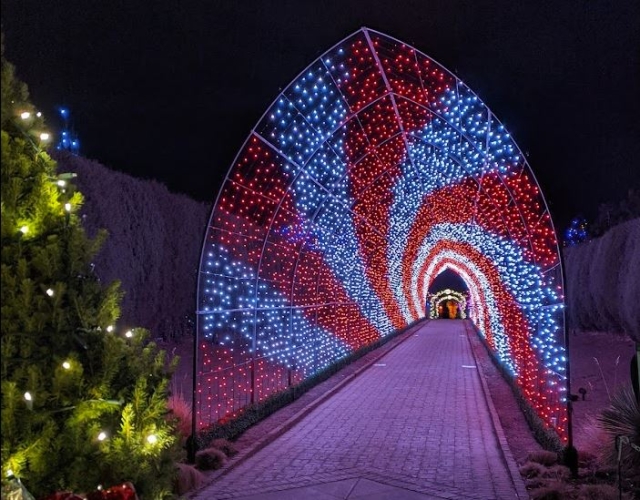 Blossoms of Light runs nightly through January 8 (closed December 25) and is expected to sell out. Get your tickets early; advance purchase is required.