Chatfield Farms Riparian Restoration Data Now Global
October 25, 2017
Rick Levy
, Database Associate
In 2016 Denver Botanic Gardens launched a project to restore the riparian ecosystem along the section of Deer Creek that flows through Chatfield Farms. Led by Dr. Rebecca Hufft, three in-stream diversions were installed to improve flow and the bank structure of the creek. Over the 20th century, people have channelized the creek, making the site less apt for hosting native riparian species and a hotbed for noxious weeds. With a combination of in-stream diversions, busy beavers building dams downstream, weed management, and planting willows and other native species we have begun the effort to return the creek to a healthy habitat.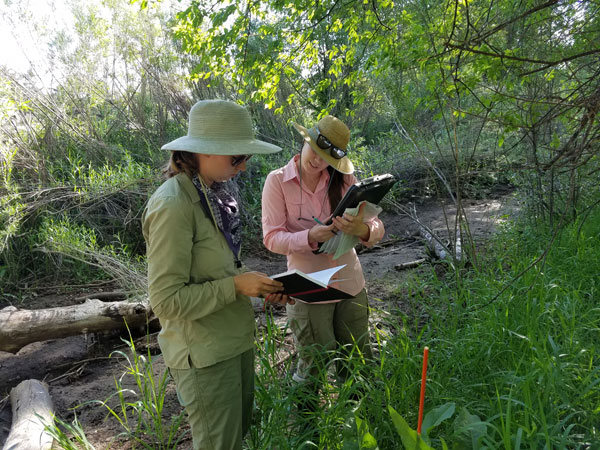 But how will we know if we are successful in this venture? As part of the restoration project the Research and Conservation Department has set up ecological monitoring plots. Each year we will survey 12 different areas along the creek to document and measure the types and abundances of plants composing the understory and canopy, as well as the diversity of invertebrate creatures inhabiting the waters.
Two years' worth of ground vegetation data has just been published online via the Global Biodiversity Information Facility (GBIF). Making these data globally available and free for use, alongside hundreds of millions of other biodiversity data points, renders the potential for our study to have a wider impact and to be incorporated into research that aims to study ecological patterns. Each year as more data is collected it will be added to GBIF, helping current and future scientists paint a bigger picture of how ecological restoration impacts biodiversity.