Casting Nature: The Process of Yoshitomo Saito
July 23, 2021
Exhibits Department
I like the fact that bronze can look like stone, mineral, wood, fabric or plastic. It can become something else.  -Yoshitomo Saito
Tokyo-born artist Yoshitomo Saito started working in bronze in 1983 while living in San Francisco. Based in Denver, Saito is inspired by natural forms with delicate lines and textures. The craftsmanship and painstaking attention to detail in his sculptures are an expression of the artist's reverence and profound respect for the natural world.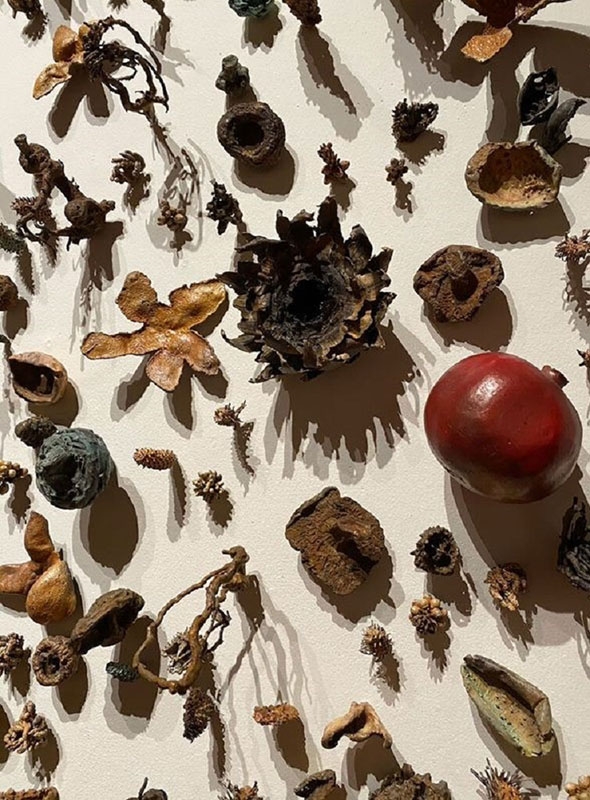 Yoshitomo Saito, millionyearseeds (detail), bronze, 2011-2021. ©Yoshitomo Saito. 
Seeds are among the natural forms that fascinate Saito. His installation millionyearseeds includes a variety of seeds, as well as banana peels, peppers, acorns and other small natural elements. In rendering these tiny pieces of nature, he celebrates the wisdom of life that is contained within each one. Seeds may be small and common, but each has a purpose for the creation and expansion of life.  
In his work, bronze appears as a featherweight medium. The fine texture of the original object is evident, highlighting the care and attention given to each piece. This high level of detail is achievable through the process of lost-wax casting. 
Yoshitomo Saito, Cheikh Lo, bronze, 2020. © Yoshitomo Saito. 
Lost wax casting 
The lost wax casting process, in use since 3,700 BCE, remains essentially the same today. The artist creates a "negative" plaster mold of the object they want to cast. The object is removed, wax is poured into the mold and dumped out, leaving a thin, hollow layer of wax around the perimeter. The artist adds thin wax sticks to the perimeter of the wax reproduction, creating channels for the metal to flow through and trapped gasses to escape. This wax form is then encased in a plastic or ceramic mold, and the wax is melted away.
Bronze is melted down at a temperature of 1,675 ˚F and poured into the plaster mold. This step requires safety precautions including goggles, a face shield, respirator, coveralls, apron, insulated gloves and shoe coverings. When the bronze has cooled, the plaster mold is removed or destroyed to reveal the cast bronze. The supports are removed and typically a polish or patina is applied. A patina can be created naturally through the oxidizing effect of the atmosphere or the artificial application of chemicals. Saito often uses patinas to emulate an object's natural color – browns for trees and acorns, green for peppers, red for pomegranates and so on. One notable exception to Yoshi's patination process is Gateway, which is both painted and patinated.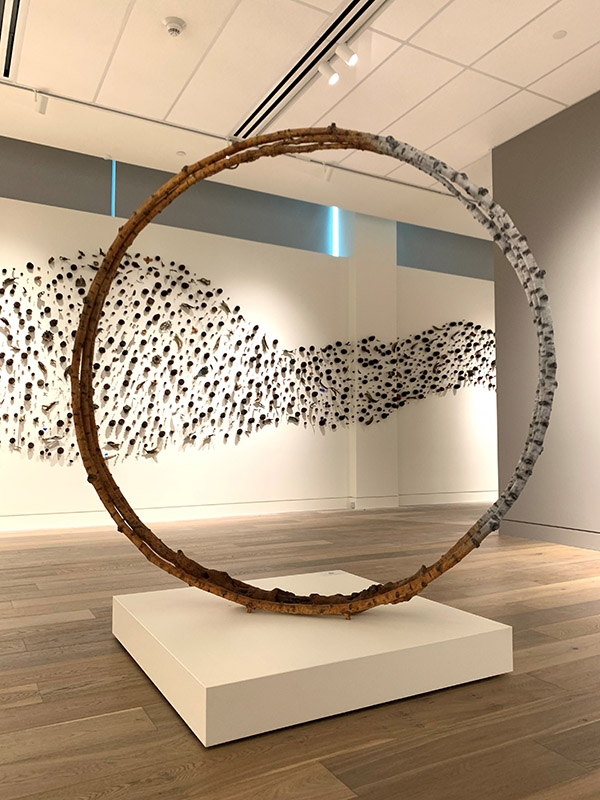 Yoshitomo Saito, Gateway, bronze, 2019. © Yoshitomo Saito.
Watch this video about Saito's bronze casting method.
Of Sky and Ground is on view in the Freyer – Newman Center's Kemper Family Gallery from July 24 – November 28, 2021.