The Botanic Gardens' Secret Garden (Shhhhhhhhhhhh!)
July 15, 2013
Panayoti Kelaidis
, Senior Curator & Director of Outreach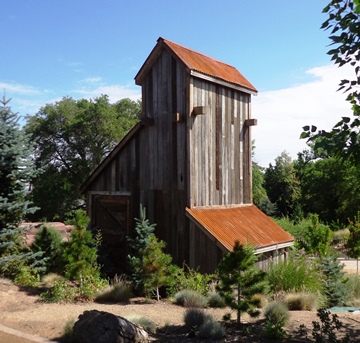 The new mine structure at the Children's Garden
A great proportion of the visitors to our York St. gardens have never even visited the Children's garden: perhaps they're afraid they are over the height limit there? Or there is simply too much to see West of York Street that they can't imagine what might be there for the kiddies. Well, I can assure you that the Children's garden is full of plants you will not see at York Street proper, and is WELL worth the visit! For one thing, where else in Denver will you see a brand spanking new antique mine structure? This popped up just in the last few weeks--I think it's quite authentic looking and adds some local color!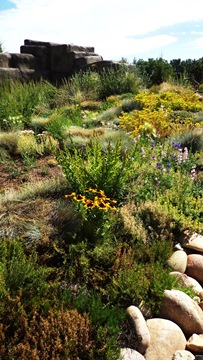 Alpine meadow
Although there's lots for tots to see and do, the appeal to gardeners here is in the extraordinary numbers of plants that have filled the various beds--plants chosen for their cultural adaptability to challenging sites...a few weeks ago I counted over 40 species of penstemon alone, but there are all manner of wildflowers and grasses that weave a very authentic looking meadows that have filled this garden in very short order. The picture above captures the tufted, wonderful way the mats and mounds have woven to make a veritable tapestry of color in this garden. You will find dozens of plants blooming here each week--a constant kaleidoscope of interest..many of them seem to require or do best in the fluffy, eco-roof mix that is employed on top of green roof structures. Whatever the secret, do check out the gems that are here and no where else.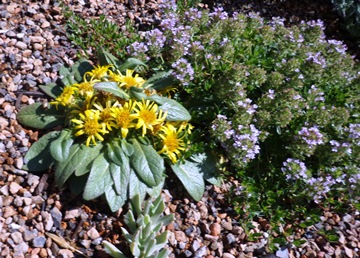 Inula rhizocephala and tiny Ziziphora
Here is an example of a tiny gem from Central Asia blooming in one of several exquisite new crevice gardens that have cropped up in the Children's area as well: I guarantee you that you will find things you will not have seen before!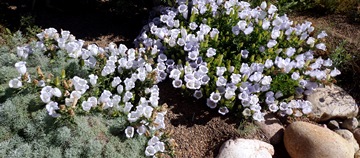 Campanula incurva
We have grown Campanula incurva many times over the decades, but I don't think we have ever had such wonderful specimens. Although often short lived, these bloom for such a long time that they are worth every inch of garden space they occupy! This is a rare plant in Northern Greece where it grows wild--it shouldn't be rare in our gardens, however! It's a winner!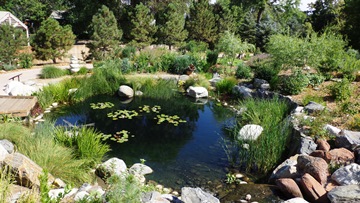 Pond at bottom of Children's garden
There is something amazing about this garden: you get wonderful views like this of the pond--which really does look like an alpine tarn...
Penstemon richardsonii v. dentatus
And at the other end of the spectrum you get wonderful vignettes everywhere you look: although most penstemons are finished, some are still very much in evidence: there are not one but two subspecies of P. richarsonii from the Pacific Northwest: this glorious one blooms for months on end--a first rate garden plant. Not to be found West of York at the "regular" botanic gardens!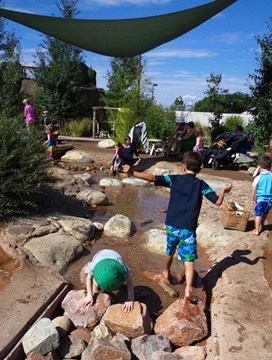 Stream with kids
The children in their namesake gardens are almost always splashing in the stream or digging next door in the "digging place": watching them is an added bonus on a visit here: they really love the hands on activities!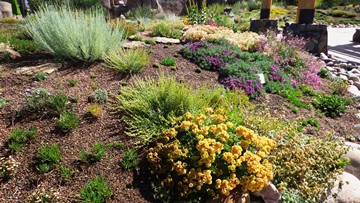 Alpine meadow
But for even the most seasoned visitor here, this garden is a whole new palette of plants combined in utterly unique ways: Here you can see the luscious clusters of Buckwheat flowers on the 'Shasta' selection of Eriogonum umbellatum--it's been glorious for weeks. The purple mats behind are a creeping germander from Spain (Teucrium cossonii) and the diffuse pink perennial next to it the other form of Penstemon richardsonii--all of these unique to this garden.
I know that many of us on staff this garden has been a revelation: I never thought we would have so many hundreds of kinds of plants growing so well that have been a challenge in the "adult" areas of the garden. The children's garden has become for me an essential place to visit frequently--it's a new gem that should not be a secret to so many people!