After Dark in the Tropical Conservatory
March 1, 2017
Special Events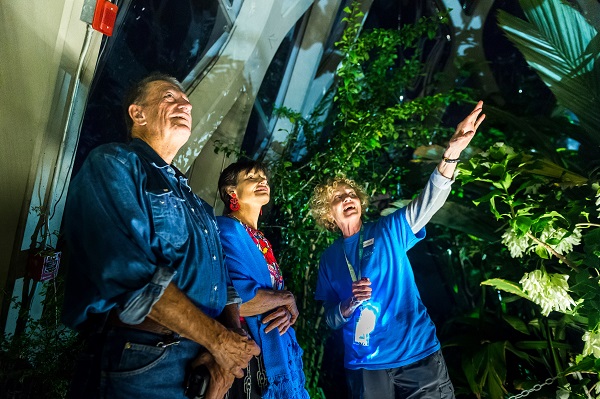 The Boettcher Memorial Tropical Conservatory, which celebrated its 50th Anniversary last year, is a favorite destination for Gardens visitors year-round, but it's particularly popular in the winter. Warm, humid, and filled to the ceiling with tropical plants, the Boettcher Tropical Conservatory offers the perfect respite from the gray, chilly days outside the dome.
Most days, the Boettcher Tropical Conservatory closes to visitors each evening. But attendees of Off the Clock, our series of theme-night-style events, have the special opportunity to experience this vibrant space after dark. Walking along a pathway lined with lights, guests can get a taste of what happens in a tropical forest after the sun sets.
Docents wearing glowing lanyards are stationed along the path to chat with guests and answer questions about the plants that thrive in the Boettcher Tropical Conservatory. Without too much waiting, guests can spot insect and amphibian residents of the Boettcher Tropical Conservatory that don't typically come out during the day. Plus, the Boettcher Tropical Conservatory offers guests a warm and beautiful thoroughfare for guests to access activities scheduled in Marnie's Pavilion and the Orangery during the event. 
Want a chance to see for yourself? Make sure to get your tickets for the last two Off the Clock events before they sell out!
Kilts & Clovers March 3, 2017 6:30-9:30 p.m. Celebrate the British Isles and the imminent return of all things green. Enjoy traditional Celtic music and dance, learn the tricks of Celtic trades with demos by the RenScots, compete for top bragging rights in a tricky scavenger hunt, and come in your favorite Celtic attire to really get into the spirit of the Isles!
Palms & Pineapples April 7, 2017 6:30-9:30 p.m. Swap your ski jacket for a sun hat and enjoy a tropical paradise at our final Off the Clock of the year. Enjoy a variety of dances and musical performances by the Kalama Polynesian Dancers, make your very own lei, and ramp up your musical skills with a free ukulele lesson.  
Advance purchase recommended. Purchase tickets online or at the Bonfils-Stanton Visitor Center prior to 5 p.m. the day of the event for advance pricing. Tickets are limited and prices go up at the door.