Gardening in a semi-arid environment is a new adventure for many of our interns. With an average of just over 15 inches of precipitation per year, humidity that hovers in the 35% range and an average growing season of 150 days, Denver Botanic Gardens is an ideal place for intern students and visitors alike to discover how rich in plant life a steppe climate can be.
Our York Street location packs more than 14,000 taxa into almost 20 cultivated acres. We have naturalized areas as well as an alpine garden that is just steps away from our hardy cacti garden and our water gardens.
Our Chatfield location is a model of public gardening in a natural and agricultural setting. In addition to a large pumpkin patch, corn maze and community supporting agriculture program, the garden is home to a wildflower garden, trial gardens and a working farm.
Horticulture Internships
Designed for students pursuing a career in the field of horticulture, our internships provide the opportunity for students to put their classroom learning to work in real-world situations and obtain valuable hands-on work experience. While our focus is on public horticulture, our horticulture, horticultural therapy and plant records interns learn about a wide variety of plants, gardening techniques and horticulture in a public garden.
Art, Exhibitions & Interpretation Internships
We also offer internships for academic credit in the exhibitions, art & interpretation department. Opportunities focus on art exhibition research & development, evaluation, collections management and docent tour development and coordination. Please contact us at exhibits@botanicgardens.org for more details.
As part of the Gardens' staff, interns have the opportunity to work in teams as well as independently, shoulder responsibilities, work with and/or manage volunteers all the while gaining hands-on experience in the field of public horticulture. They learn practical skills that are so important to future employers.
All applicants must be legally able to work in the United States and must have a valid driver's license. Please note the educational requirements outlined in our job descriptions. Due dates for completed applications are noted on the job postings.
Frequently asked questions about internships >>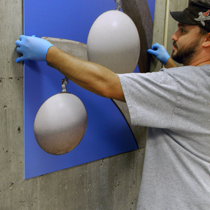 Denver Botanic Gardens is a nonprofit organization and an Equal Opportunity Employer.