Top 5 picks for your visit
New Gardener Boot Camp
Saturday, Mar. 7, 9 a.m. - 4 p.m.
York Street
High Altitude Gardening
Various dates starting Feb. 27
York Street
Estes Park Wild Plant Weekend
2015 Tree Diversity Conference - Even. More. Tree. Types.
Friday, Mar. 6, 9 a.m. - 4:30 p.m.
York Street
plant of the week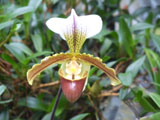 Paphiopedilum orchids can be found growing from India and southern China through Southeast Asia to the Philippines and New Guinea. Many species are threatened in the wild due to over-collection. Thousands of hybrids have been developed and they have become popular houseplants because of their long-lasting and unusual flowers.
Enjoy our March walking tour: Hellebores