Top 5 picks for your visit
2015 Summer Concert Series
June - Aug.
York Street and Chatfield
Bulb Pre-Orders
Place your bulb order by June 22
Online or at the Shop at the Gardens
Literature of the Land Book Club
Apr. 22 or 23, 7-8:30 p.m.
York Street
Film: "Arise"
Wednesday, Apr. 22, 6:30-8:30 p.m.
York Street
Summer Seedlings for Young Children
May through Aug. - Ages 18-24 mos., 24-36 mos. and 3-6 years old
York Street
plant of the week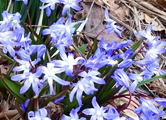 Many "minor" bulbs thrive in Colorado, though few naturalize as quickly or enthusiastically as Chionodoxa luciliae (Glory of the Snow). The flowers are usually upturned, from deep cobalt to cerulean blue. Let them go to seed and soon you will have drifts in your garden. The whole plant disappears by the end of spring, appearing again next March and April.
Enjoy our April walking tour: Alpines