Top 5 Picks for your Visit
see the gardens this week!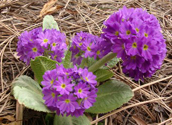 May Walking Tour: The Bill Hosokawa Bonsai Pavilion
Plant of the week: Primula denticulata (drumstick primrose) is planted in many gardens (such as the Rock Alpine Garden and the Waring House garden) and is one of the toughest primroses. It thrives in in shade or part sun, and starts to bloom huddled on the leaves, extending its stem through springtime.