Top 5 picks for your visit
Chihuly
June 14 - Nov. 30
York Street 
Sunrise Vinyasa Yoga in the Gardens
Tuesdays & Thursdays through Oct. 9, 8-9 a.m.
York Street
An A-MAZE-ING Volunteer Experience!
Every Friday, Saturday & Sunday from Sept. 19-Nov. 1
Chatfield
Chihuly Exhibition Catalogue
plant of the week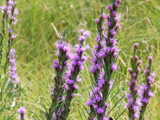 Liatris punctata (Great Plains Blazing Star) - By far the most common Blazing Star in Colorado is our native prairie species that's well represented in the Plains' garden and elsewhere on the grounds. There are some that often open their flowers in July, and other clones that may not bloom until late October, but most fill August and September with their showy pink-lavender spikes.