Top 5 picks for your visit
Corn Maze
Fridays, Saturdays & Sundays - Sept. 19 - Nov. 1
Denver Botanic Gardens at Chatfield
Chihuly Nights
Nightly, Oct. 3 – Nov. 30, 5:30-8 p.m.
York Street
Bat Encounter: Live!
Sunday, Oct. 19, 1:30-3 p.m. or 3:30-5 p.m.
York Street
Calavera Ball
Saturday, Nov. 1, 6:30-10 p.m.
York Street 
Mordecai Children's Garden
Open through Nov. 1, 9 a.m. - 5 p.m. daily
York Street, on top of the parking structure
plant of the week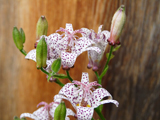 Tricyrtis hirta, commonly called speckled or Japanese toad lily, is a member of the lily family. Best grown in shady and moist conditions, this is one of the latest blooming perennials in the Gardens. You can see it bloom under the honeylocust in June's PlantAsia. Due to the lateness of its blooms, the buds will get frozen prior to flowering in years with early hard frosts.