Top 5 Picks for your Visit
see the gardens this week!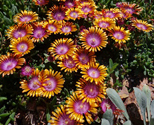 May Walking Tour: The Bill Hosokawa Bonsai Pavilion
Plant of the week: The Delosperma Firespinner (Firespinner ice plant) Plant Select introduction from last year is already opening its first flowers next to the Greenhouse Terrace garden. Many ice plants froze this last winter, but this came through with flying colors. Few plants are more eye catching than this succulent from the East Cape that will bloom for the next month in several gardens.