Top 5 picks for your visit
Chihuly
June 14 - Nov. 30
York Street 
Corn Maze
Fridays, Saturdays & Sundays - Sept. 19 - Nov. 1
Denver Botanic Gardens at Chatfield
The Science Pyramid is Open!
9 a.m. - 5 p.m. daily, included with admission
York Street
Chihuly Exhibition Catalogue
plant of the week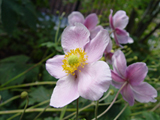 Anemone hupehensis var. japonica Japanese Anemone - Few woodland plants glow as brightly as Japanese anemones that come in white or pink, double or single form this time of year. Their waxy petals make for good cut flowers, and their airy mounds of foliage are attractive even when they're not blooming. Some forms spread by runners (especially the pale flowered cousin "hupehensis").