Winter Therapeutic Horticulture Program
During the winter months we will bring the garden to you! The Winter Green program seeks to connect people with plants, to engage their senses and provide social enrichment. Offered November through March, Winter Green provides a sensory tour of potted plants and a hands-on activity of your choice at your facility.
November through March activity choices:
Container Rock Gardening
This activity provides a hands-on experience in creating a miniature rock garden within a container. Participants learn basic rock garden design and care principles.  This activity develops hand-eye coordination, fine motor skills, and exercises creativity in a highly social setting.
African Violets

Participants learn and perform the steps to create a self-watering container for African violet transplants. This activity encourages fine motor skills and creative expression through hands-on work with plant, soil and potting material.
Moss Garden
This activity creates a hands-on experience creating a miniature moss terrarium. Participants learn how to make a miniature ecosystem to take home and enjoy. The activity develops fine motor skills and hand-eye coordination in a highly social setting.
Hardy Houseplants
Participants involve their sense of touch, sight and smell while they decorate pots and choose from a variety of hardy houseplants to transplant. This activity helps trigger memories of the past and facilitates creative expression in a very social setting. 
February through March activity choices:
Salad Garden
Create large containers of cool season salad mixes for participants to share. This activity encourages discussion of cool season gardens while giving participants hands-on experience with plant and soil materials. This activity produces one large container for each group of three participants.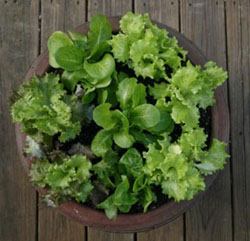 Seed Tape
This activity prepares participants for their outdoor spring vegetable garden by creating strips of seeds that can be planted outside. Participants learn about cool season gardens while encouraging hand-eye coordination in a highly social setting.
Dates and Times:
Winter Green: beginning of November through the end of March; weekdays between 10 a.m. - 3 p.m.
Cool Season Gardening: beginning of February through the end of March; weekdays between 10 a.m. - 3 p.m.
Cost:
Winter Green: $70 for-profits, $60 non-profits
General Info:
Programs are offered by reservation only.
Payment is due upon booking.
Cancellations made at least one week prior to the program will receive a full refund.

Cancellations with less than one week notice (weather cancellations excepted) are not refundable. If cancellation is made by the Gardens, we'll work with you to re-schedule your program. Questions? Email us at

thprograms@botanicgardens.org

or call 720-865-3613.

Cancellations due to weather will be rescheduled at our earliest availability.

To schedule a program for your group, call 720-865-3613 or fill out a Request Form and email to above address.
Would you like to volunteer with this program? Email us at thprograms@botanicgardens.org.
We also have the Summer Therapeutic Horticulture Program, facilitated at our York Street location during the summer months.