Summer Therapeutic Horticulture Program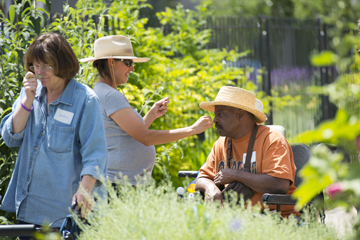 Denver Botanic Gardens invites you to experience our Sensory Garden. Whether you choose our Summer Sensory program or stroll on your own, you are sure to leave with your senses alive. 
The Sensory Garden is a special place. Not only can you experience intricate plantings of bright colors and bold textures, but you are encouraged and reminded to interact and immerse all of your senses in each plant. This fully accessible garden features planting structures that demonstrate easy gardening solutions without having to bend, kneel or stoop. Bring your group and take a guided one-hour stroll throughout this cherished garden.
To schedule a Sensory Garden tour for your group, contact us at thprograms@botanicgardens.org and we will send you an application form, or call 720-865-3613. $30 for a 30 minute tour for 12 participants. Does not include the price of admission to the Gardens.
Summer Sensory Program
The Summer Sensory program offers engaging tours of our accessible Sensory Garden along with a hands-on activity. Trained volunteers will lead you through the garden highlighting plants that will delight the senses. The program is then rounded out with a gardening activity of your choice that results in a take-home plant for each participant. This program strives to connect people with plants in a safe, restful location while engaging the senses and providing social enrichment.
Available activities:
Flower Arranging: This activity provides hands-on experience creating a seasonal flower arrangement. Participants learn and perform the steps to create a one of a kind floral arrangement to take home and enjoy. This activity promotes hand-eye coordination, fine motor skills and creative expression. Flower Arranging is suitable for all-level functioning populations.
Container Herb Gardens: Participants involve their sense of touch, sight and smell while they choose from a variety of herbs to transplant and create a mini herb garden. This activity helps trigger memories of the past in a very social setting. Container Herb Gardens is geared to all-level functioning populations.
Rock Gardens: This activity offers hands-on experience creating a miniature Colorado rock garden. Participants learn basic rock garden design and care principles and are able to take home and enjoy what they have created. The activity develops fine motor skills, hand-eye coordination, and exercises creativity in a highly social setting. Rock Gardens is suitable for all-level functioning populations.
Terrariums: This activity creates a hands-on experience in creating an open or closed-air terrarium. Participants learn how to make a terrarium from hardy houseplants to take home and enjoy. The activity develops fine motor skills and hand-eye coordination in a highly social setting. Terrariums are geared towards high-level functioning populations.
Dates and Times:
Denver Botanic Gardens, York Street
One-hour program offered weekdays between 9 a.m. - 3 p.m. Shaded picnic areas are available for lunch before or after the program.
Mid-May through the end of September
Cost:
$90 for for-profits and $75 for non-profits, which includes admission to the Gardens for a group of 12 participants plus staff plus program costs and all materials.
General Info
Programs are offered by reservation only.
Payment is due upon booking.
Cancellations made at least one week prior to the program will receive a full refund.
Cancellations with less than one week notice (weather cancellations excepted) are not refundable. If cancellation is made by the Gardens, we'll seek to reschedule your program.
Questions? Email thprograms@botanicgardens.org or call 720-865-3613.
To schedule a program for your group, fill out a request form and send back to us at thprograms@botanicgardens.org, or call 720-865-3613. Additionally, our Winter Therapeutic Horticulture Program brings gardening to you over the winter months.
Farm Team at Denver Botanic Gardens at Chatfield
Join us for this new program. Experience our Chatfield location,  a working farm, rolling open space, and historic farmstead. Work towards vocational goals through farming and gardening activities.
Find out more and how to register