Horticultural Therapy Services
Denver Botanic Gardens Horticultural Therapy Services offer a wide variety of opportunities for facilities that serve the elderly and people with disabilities to experience horticulture and get their hands dirty.  Let us design and facilitate programs that are tailored to the needs of your facility staff and participants.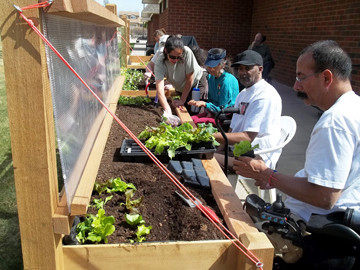 Services:
Denver Botanic Gardens' trained horticultural therapy staff provides consulting services to eligible for-profit and non-profit facilities.   
Horticultural Therapy Services include consulting on:
Program design

Horticultural Therapy curriculum designed to your needs
Programs designed to take place at your facility or Denver Botanic Gardens 

Making the most of your garden

Achieving therapy goals in the garden
Adapting maintenance schedules and garden activities for maximum participation

Plant selection

Vegetable gardens
Sensory plants
Indoor plants

Garden design elements

Planting design
Designing accessible gardens  
Each request will be customized to your needs.  For more information and pricing options call 720-865-3613 or email thprograms@botanicgardens.org.