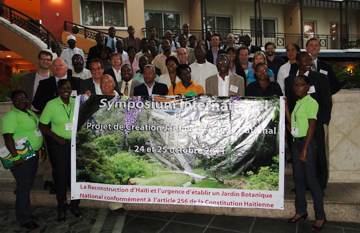 National Botanic Garden in Haiti
In collaboration with six other U.S. botanic gardens, Denver Botanic Gardens is involved in the development of a National Botanic Garden in Haiti. An International Workshop on the Role of a National Botanic Garden in the Rebuilding of Haiti was held in Port-au-Prince, Haiti from October 23-25, 2011. Participants representing botanic gardens and their networks in Canada, the Dominican Republic, France, Haiti, the U.K., and the U.S.A. presented ideas, priorities, recommendations and options for the establishment of a National Botanic Garden in Haiti during the workshop.
The Workshop was attended by over 100 local professionals from various civic, development, ecological, and botanical fields. The Haitian Minister of Tourism pledged full support for the development and implementation of the National Botanic Garden, which in the coming years will become a reality with support from the international community. Since this workshop, due to various changes in the local government, the project has been slow in moving forward, but more recently the Ministry of Environment has pledged support.