Summer is a wonderful season in Colorado, however a three month break from school can quickly become boring without engaging activities. If you know someone between the age of 9-17 who is social, curious and likes to learn about plants and science, they should check out the cool Denver Botanic Gardens volunteer programs at York Street!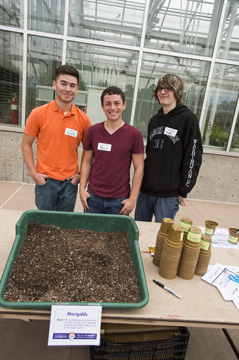 Summer Teen Volunteer Program
Teens who are looking for a fun and engaging opportunity to volunteer outdoors this summer need not look any further! Our Summer Teen Volunteer program is for students 13-17 years old who want to educate and interact with children and families. The Gardens is looking for teens to volunteer from June-August in the Mordecai Children's Garden. Teens will help as Exploration Guides, Garden Helpers and as Junior Counselors with Summer Camps. Teens will be required to attend three interactive training sessions prior to volunteering and will be asked to complete at least 50 hours of volunteer service during the summer.
Our application deadline for 2015 has already passed. If you are interested in applying to or learning more about this program for summer 2016, please check this page in February for more info. Questions about the program? Contact the Volunteer Services Department at 720-865-3565 or vol@botanicgardens.org.
Family Gardening Days
If you want to get out into the garden with your children and teach them in a fun and supportive setting, you should consider participating in one of our Family Gardening Days. These days are open to current volunteers and members with children between the ages of 9-12 to get outdoors and share the joy of gardening in the Mordecai Children's Garden with an expert horticulturist. Our staff will provide tools, garden space, suggested activities, and additional guidance.
For more information on dates and details, please contact the Volunteer Services Department at 720-865-3565 or vol@botanicgardens.org.