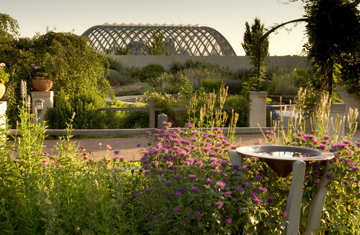 Denver Botanic Gardens' commitment to water conservation
With outdoor water use accounting for more than half of Denver's water consumption, water-efficient gardening can help conserve this precious resource. Denver Botanic Gardens identified sustainability as a core value with this in mind – educating our community on how to design and maintain a beautiful garden with plants that are appropriate for a semi-arid climate. From the way we irrigate to the plants we feature in our gardens, we try to set an example of good water management.
 
Seeking inspiration for water-efficient gardening?
We'll continue to showcase water-efficient gardening practices. Denver Botanic Gardens tries to lead by example when it comes to efficient irrigation and appropriate plant selection for this climate – with perhaps our best examples being the Roads Water-Smart Garden and the Western Panoramas Garden at our York Street location. Several gardens – the Laura Smith Porter Plains Garden, Anna's Overlook and Dryland Mesa – are not irrigated at all. We urge homeowners to visit the Gardens throughout the spring and summer to get tips on how to practice water-efficient gardening in their own yards. And an expanded offering of classes and seminars will provide even more opportunities to become water-wise!
Here are some water-saving tips for Colorado Gardeners.
Additional water-conservation resources
In championing water conservation, Denver Botanic Gardens collaborates with many organizations. These include: