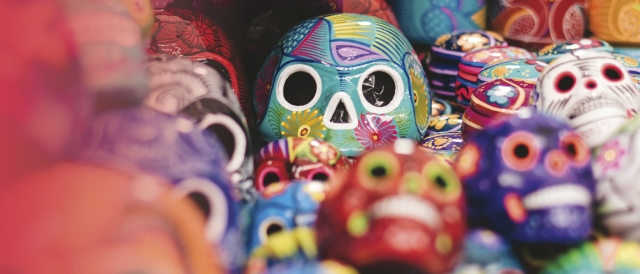 Día de los Muertos Celebration
Virtual Celebration
Since we all can't gather in person on the actual day, we invite you to join us in October and November for a virtual celebration of Denver Botanic Gardens' observance of Día de los Muertos.
This traditional Mexican "Day of the Dead" celebration offers at-home fun for the whole family. Download coloring pages, learn how to make sugar skulls and shop our virtual mercado.
NEW: Short Film Competition
Check out this year's winners!
1st Place: Stray Spirits
2nd Place: Remembrance
3rd Place: Assurances, A Love Story
Runner Up: Fond Remembrance
Online Activities & Videos
Create-it: Día de los Muertos Crafts
Quick and easy videos on how to make Día-related crafts at home with your family.
Coloring Sheets by Artmando 
Día de los Muertos Virtual STEAM Outreach Workshops 
Join Denver Botanic Gardens and Jacobs Engineering in these fun, virtual workshops. Get the whole family involved to learn a little bit about Mexico and challenge yourselves with two interactive STEAM projects.
ArtistiCO - Virtual Dance Performance Video  
ArtistiCO will take you on a journey through the colorful and vibrant Mexican culture.
ArtistiCO - Forbidden Love Video
A short dance film that dives into the topics of LGBTQI in the Latino community.
Virtual Mercado
Our first-ever Día de los Muertos Virtual Mercado features vendors from Colorado selling original art pieces, prints, folk art, jewelry and more – all available for purchase through their online storefronts.
Trips & Travel
Denver Botanic Gardens and Reefs to Rockies are offering two unforgettable trips to Oaxaca, Mexico during its two most important celebrations of the year – La Guelaguetza and Día de los Muertos.
Oaxaca's La Guelaguetza
July 17-23, 2021
Itinerary
Día de los Muertos - Mexico
Oct. 28 - Nov. 3, 2021
Itinerary