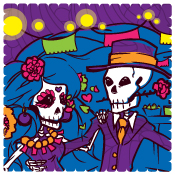 Dia de los Muertos (Day of the Dead) is a traditional Mexican celebration that originated over 3,000 years ago and is celebrated on All Saints' Day (November 1) and All Souls Day (November 2). Calavera Ball ¡Viva la Muerte! is a one-of-a-kind celebration of Mexican culture. Entertainment includes live performances and music. Cultural food and beverages are included in the ticket price. Calavera Ball ¡Viva la Muerte! is designed as an interactive cocktail party and Día de los Muertos "Catrina" or "Catrin" attire is encouraged! 
During Día de los Muertos, families remember, honor and celebrate those who have departed. To welcome and commemorate the dead, offerings such as pan de muertos, skulls, candles, incense, yellow marigolds and, most importantly a photo of the departed soul are placed on the altar.
Calavera Ball takes place indoors. No programming will be outdoors. Make sure you arrive on time so you won't miss any of the fun activities! All guests must be 21 years of age and older with ID to attend.
Date & Time:
Friday, Oct. 23, 2015
7-11 p.m.
Last entry at 9 p.m., grounds close at 11 p.m.
Admission:
$75
Live Auction:
Featuring auctioneer Eric Goodman, host of Mile High Sport Radio
Items include painting by Karma Leigh, handmade pinatas, dinner with Reggie Rivers at Denver Chophouse, football signed by Randy Gradishar
Entertainment:
Live music by Sambadende, Latin lounge music by DJ Vizio with Latin dance lessons, free face painting (7-9 p.m.), costume contest, 9News' Belen de Leon emcee
Food & Drink:
Ticket includes Mexican food buffet, beer and wine
Specialty cocktail: El Diablo (tequila, crème de cassis, lime juice, ginger ale)
Each guest receives a take-home cookie from Azucar Bakery