Folk Art Tradition at a Large Scale
October 11, 2021
Exhibits Department
This fall, Denver Botanic Gardens hosts four large-scale alebrijes (ah-leh-BREE-hehs) ‒ fantastical hybrid creatures from Mexican folklore, featuring the tail, wings, horns and claws from a variety of animals. Contemporary Mexican artists Óscar Becerra and Rubén Mica blend modern and traditional elements of Mexican folk art with three sculptures (Alebrije Iluminados) featured in Noches Iluminadas and a fourth titled Xólotl: dios perro. 
On display in the Boettcher Memorial Center lobby and Marnie's Pavilion, the three Alebrijes Iluminados, titled Kamalio (chameleon), Ayotochtli (armadillo), and Ketzali (plumage) are performed by the artists during Noches Iluminadas. Made using recycled materials and illuminated from within by LED lights, this collaborative project between Becerra and Mora is a modern interpretation of the traditional cardboard and papier-mâché alebrije. Óscar Becerra also created Xólotl: dios perro, located in the atrium of the Freyer ‒ Newman Center. This 15-foot sculpture and the three Alebrijes Iluminados are made using the traditional technique of cartonería, a form of Mexican papier-mâché used by the originator of alebrijes, Pedro Linares López.
The term alebrije was coined by Mexican artist Pedro Linares López (1906-1992) in the 1930s. While sick in bed with a high fever, López dreamed about fantastical creatures like a donkey with butterfly wings and a lion with an eagle's head. In his dream, each animal shouted the word "alebrijes!" Once recovered, he sculpted the creatures using cartonería. His creations took Mexico by storm and, today, alebrijes are the most popular form of Mexican folk art in the United States. Over the years, they have been collected by tourists, artists and museums. 
Cartonería appeared in the 17th century when churches were erected throughout Mexico and churchgoers began to make crafts to decorate them. Along with creating the first alebrijes, Linares López and his family remain among the best-known practitioners of cartonería, their use of the craft tracing back to the 18th century. Known as cartoneros, makers of cartonería objects, the Linares López family has cultivated an international reputation for the creation of skeletons, skulls and alebrijes for a variety of fiestas including Mardi Gras, Holy Week and the Day of the Dead. Linares López's children and grandchildren carry on this tradition today. 
Depending on the size, cartonería sculptures are created over a five- to six-day period. Paper is torn into small pieces to make it easier to manipulate and adhere to the plaster or wire mold. A flour and water paste affixes the layers of paper, which is carefully applied so that a smooth, even surface is maintained. The piece is left to dry between layers until the appropriate thickness is achieved. Details such as fangs, claws and wings are added with cardboard. Next, a white paint or whitewash is applied to help the brightly colored paints stay vibrant. 
Today's small-scale alebrijes are most commonly made using copal wood (Protium copal) from the Oaxaca valley. Despite this, contemporary artists like Óscar Becerra and Rubén Mica keep the long tradition of cartonería alive with their large imaginative sculptures. 
Alebrijes Iluminados are on display in the Boettcher Memorial Center lobby and Marnie's Pavilion Oct. 27 ‒ Nov. 7. The sculptures are performed Nov. 1-5, 4-7 p.m. 
Xólotl: dios perro is on display in the atrium of the Freyer ‒ Newman Center Oct. 2  ‒  Nov. 7. 
Gallery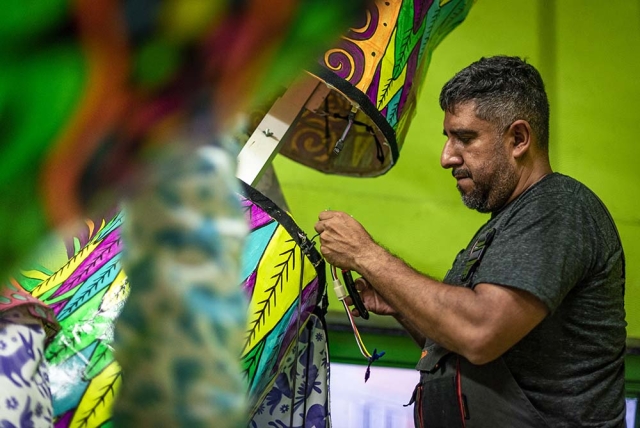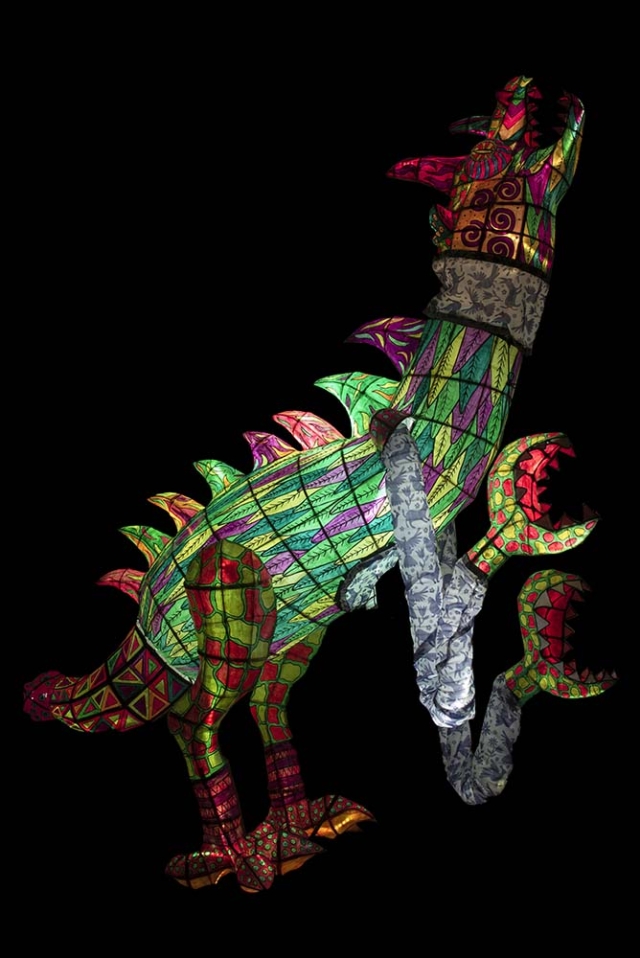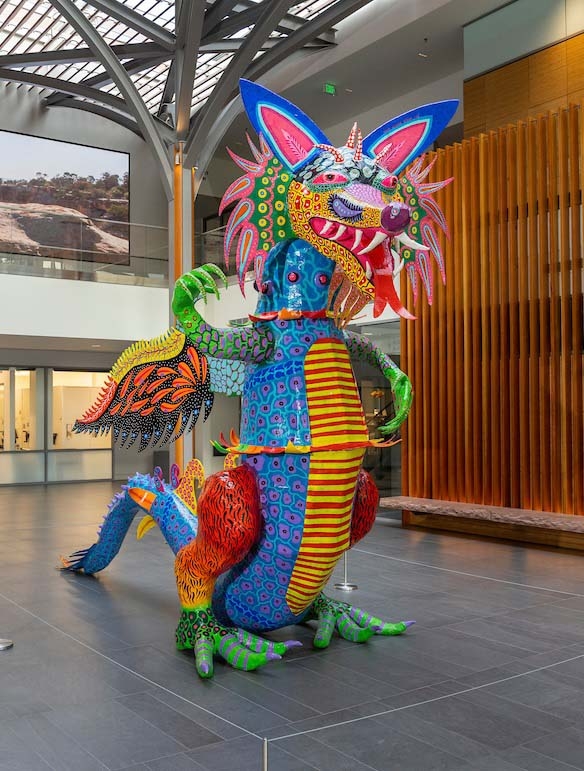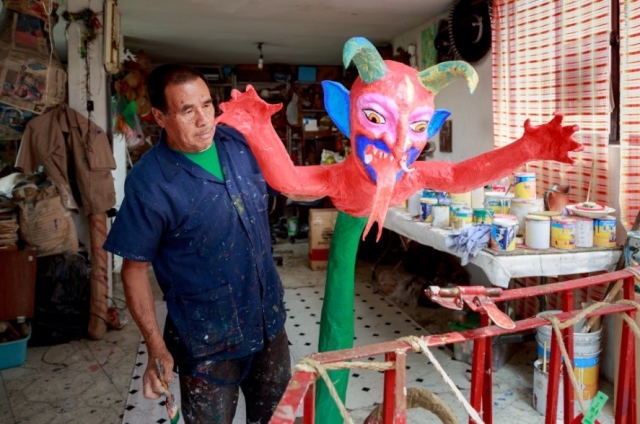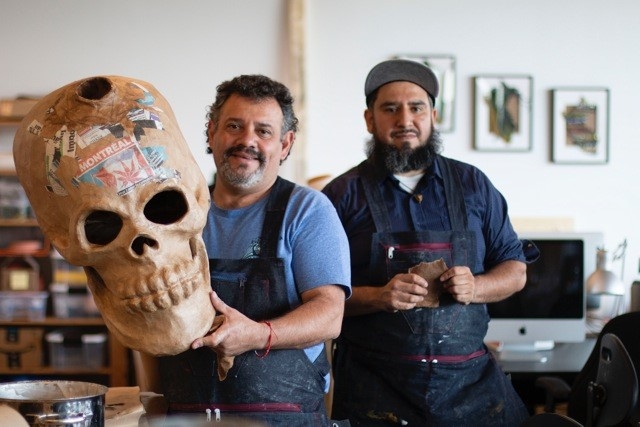 Comments
artist talk
Will the Mexican paper mache artists, Oscar Becerra and Ruben Mica be having an artist talk on their work?
Artist talk
Hi Patina,
Yes, on Saturday, October 30. Find more info here: Artist talk.
Add new comment