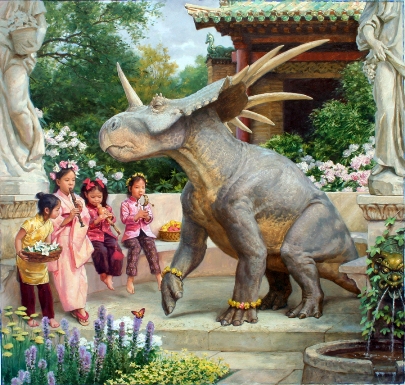 People love to use their imagination to create new worlds.  It doesn't matter if its a child creating a fairy garden or a grown-up gardener contemplating a new design for the spring: world-building is a favorite activity of almost everyone.  And the right blend of imagination and realistic techniques can make the world as compelling as our own.
James Gurney created not merely art and books, but an entire phenomenon by pairing children's fantasy and scientific illustration techniques into reconstruction of the imaginary Dinotopia.  His efforts can give us all insight into the pairing of the realistic and the fantastic.  Denver Botanic Gardens' Botanical Illustration program brings James Gurney here for "Dinotopia: Behind the Scenes" on Thursday, March 5 at 6:30 p.m.  Registration is $10 for members and $13 for non-members.
Gurney's talk will be interesting to anyone who who is curious about the world-building he went through to create his series of books.  Artists, authors and illustrators may find it especially useful: he regularly blogs about art, teaching, Dinotopia and other creative endeavors.
The Certificate in Botanical Illustration program also offered an elective with James Gurney as guest instructor.  It sold out quickly: how fortunate we are are to have a generous author-illustrator come to us here! Remember to register in advance for Thursday's nights presentation.