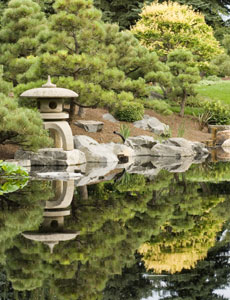 Our Japanese Garden Sho-Fu-En

 was built in 1979, and has been loved and supported by the community as a symbol of friendship between the U.S. and Japan.
It has been very sad days for everyone at Denver Botanic Gardens, as we continue to watch the news and learn of the disastrous impacts from the largest earthquake ever recorded in Japan and the resulting Tsunami. Thousands of lives have been lost, and thousands more are missing, have been injured and have lost their homes. The aftershocks continue, impacting other parts on Honshu, as people struggle to carry out rescue efforts.
Denver Botanic Gardens extends its deepest condolences to everyone impacted by this disaster and has provided a 'Wish Tree' in the Bonfils-Stanton Visitors Center for people to visit, pray and reflect.
Visitors are encouraged to write wishes and condolences for the victims of the disasters and attach them to the tree.