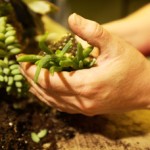 Most of us are able to take full advantage of all our senses within nature – to enjoy the sight of colorful foliage and flora, to smell the scent of a delicate bloom, or to touch the velvety cloth of a lamb's wool leaf.
These experiences can move and transcend. And the obstacle to these amazing experiences is often merely our own laziness or our 'sensory soul' being turned to the 'off' position.   When our soul reminds us of the need to see, smell, touch and walk amongst the beauties of nature, most of us are able to seek these experiences out.  We may have our own gardens to enjoy or we take a walk in a park or a drive through the mountains.  And, of course, let's not forget a visit to our local botanic garden.
But what if you're elderly and live in a residential facility that has no garden? Or you spend your days at an elder care facility and it's now the dead of winter?  Or perhaps you're sight-impaired and have never experienced the joy of seeing white snow upon fall's colorful foliage nor had anyone ever describe its beauty to you?
Denver Botanic Gardens recognizes the need for all people to feed their sensory soul and is once again offering our therapeutic horticulture program, Winter Green.  Winter Green offers senior adults and populations with disabilities the opportunity to engage with savory plant scents, textured leaves and visual wonderments by bringing the outdoor experience to indoor activities.
Each program is facilitated by two sensory guides and includes lots of plants to touch, smell and listen to. Depending on the theme and the participants, stories and shared memories complete the experience.
If you are interested in learning more about offering a Winter Green experience or if would like to volunteer with the program, visit the Winter Green page on our website for more information.