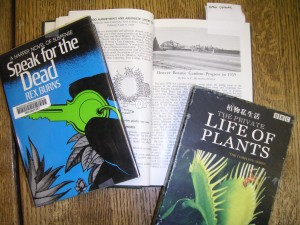 Have you checked out the Helen Fowler Library recently? On a cold day at the Gardens, you can find treasures there! Here are a few items I have been enjoying lately:
The Green Thumb Magazine: If you are interested in the history of Denver Botanic Gardens, this bound set of journals, dating from 1944 through the late 1980s, will captivate you. The Colorado Forestry and Horticulture Association was the precursor group to the Botanic Gardens Foundation, and their periodical captures 40 years of progress in creating the Gardens we know today. It also offers plenty of gardening advice and in-depth stories on all kinds of plant-related topics. I particularly love the old pictures and learning about the individuals whose hard work created our Denver oasis, and whose names grace our site. (If you are a real Denver Botanic Gardens history nerd, take a look at Judy Morley's 1995 manuscript, "Oasis in the City". This well-researched and very readable document formed the author's Masters thesis and offers the history of our site from pre-Western settlement through the mid-1990s.)
David Attenborough DVDs: The Library has a small but interesting collection of video materials. I highly recommend Attenboroughs' series on plants and on insects. The amazing photography will put you on the edge of your seat, and Attenboroughs' jocular style as he handles scorpions and tramps through the rainforest (not at the same time!) will have you waving your hands about in delight. Currently, the Library owns "The Private Life of Plants" and "Life in the Undergrowth"
Local Color: I'm just finishing the 1978 mystery, Speak for the Dead, by Rex Burns. Partially set here at the Gardens, it's fun to be able to picture where the head was found, and the Denver locations provide nostalgia for anyone who lived here in the 1970s. My favorite dialogue takes place between the detective and one of his prime suspects. "Have you ever been to the Botanic Gardens?" asks the detective. "No, that's one of those places you think about visiting but never get around to."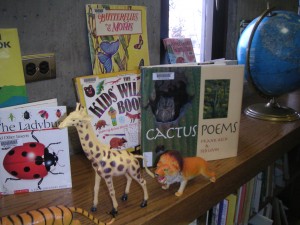 Kids Welcome:
Bring in your little ones to explore the large selection of children's books found in the low bookcases around the perimeter of the Library. Then snuggle up for a read together in one of the comfy bean-bag chairs in the corner.