It's early March, and though we'll probably (hopefully) get another snowstorm or two before the growing season proper, the momentum of springtime is undeniable.  Early bulbs like crocus, snowdrops, and adonis are flowering, and leaves of their later counterparts are peeking through the soil.
Flowering bulbs are a hallmark of spring, but some shrubs and trees are equal heralds of the season.  One of the earliest to flower is the witch hazel (Hamamelis sp), named not for sorcery but for its twigs being used in earlier times as "witching" rods for finding water.  The leaves of Hamamelis bear a resemblance to the leaves of true hazels (Corylus sp), but they are not closely related.
Hamamelis is a fairly small genus of plants--five or six species can be found native in woodlands of both eastern North America and eastern Asia.  Wild witch hazels have fragrant flowers with four bright yellow, strappy petals that can be tinged with red or copper.  Although the blossoms are not showy individually, a shrub in full bloom is quite a show (especially since so few other plants are flowering yet).  Each flower produces two shiny black seeds which are discharged forcefully from the branches when mature.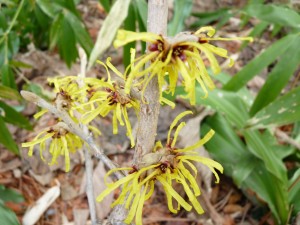 Witch hazels have a long history of medicinal use as well—a tincture of young twigs is easily obtainable at grocery stores and pharmacies to be used as an astringent for cuts and sores.  It has some antibacterial and perhaps even antiviral properties, making it a popular ingredient in homeopathic deodorants and cold sore remedies.
The namesake of witch hazels, true hazels (Corylus sp), are also early risers in the spring time.  They are members of the Betulaceae, or birch family, and produce the long strands of flowers (called catkins) that are characteristic of the group.  You may know Corylus best by their fruits—called filberts, hazelnuts, or cobnuts, depending upon from what part of the country you hail.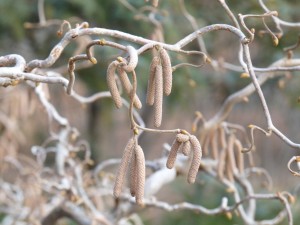 Corylus can be either trees or shrubs.  Most are native to eastern Europe, North Africa, and western Asia, but some species can be found in eastern North America as well.  You can see Corylus colurna, or the Turkish Hazelnut, in the Waring Garden at Denver Botanic Gardens.  It's long catkins were growing even in January.  It thrives in our hot summers and cold winters.  A more popular landscape hazel is Corylus avellana 'Contorta', a twisted form of the species typically used for commercial nut production.  Also called Harry Lauder's Walking Stick, the form occurred naturally and was found in an English hedgerow over a century ago.  They are most fascinating in winter, when the leaves do not obstruct the view of the tortured stems.
We've got a ways to go before we arrive at the season for swaths of green and flowers, but every day a few more plants show signs of stirring here at DBG.  Hurrah for spring! (Come have a look!)