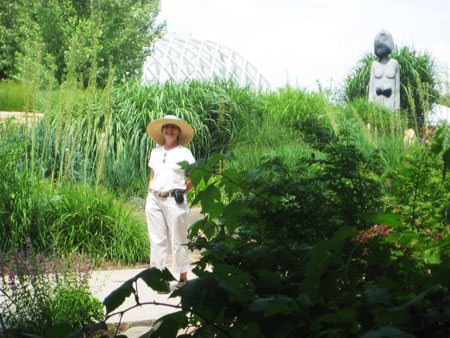 Ambassador Jan here! When you think of DBG and spread the word about us, it is our utmost wish that "Welcome" is the first thing that comes to your mind. And this is where I come in. I guess you could say that I come in where YOU come in!
So what's a day in the life of an Ambassador? First and foremost, IMHO, I have the best job at the Gardens! When I check in (I usually spend 3 or 4 hours at the garden) I grab my goody bag of informational literature for you (and maybe even a surprise!) and I head out for the gardens – I probably walk at least 4 miles on any given day. I literally worship the ground I walk on….
On most days, I have no other itinerary than to greet you, answer your questions and assist you in any way I can. Your comfort, comments and questions are my priorities. If I don't know the answer to your question, I will get the answer for you! If you need directions to find a plant, garden, photo opportunity or amenity, I will take you there! If you need a smile or help, I have an unlimited supply. You can recognize me by my "uniform" of DBG khakis (staff members wear green), big hat and water bottle (two MUSTS for you and me). I also have a big dinosaur pin that says "Ask Me" and I tend to walk up to all visitors (I don't know the meaning of "stranger") and say, "Hi! How's it going for you today? Are you finding everything you were hoping for and more?" At the end of the day, I walk away content, joyful, full of Vitamin D and so thankful to have met you.
Please make Denver Botanic Gardens your next magical excursion and tell me how I may serve YOU! Our next free day is Thursday, Aug. 20. Check this blog for tips on making your experience as comfortable and enjoyable as possible and please post your comments and questions here to let us know how we are doing, how *I* am doing, and what I can do to improve your experience with DBG. See you in the Gardens!
Jan Dillon, Gardens Ambassador