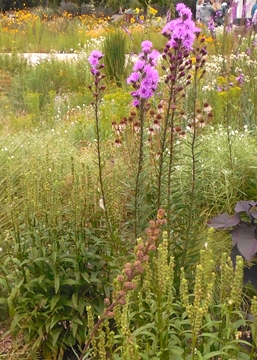 Liatris ligulistylis
I was born in Colorado, and have spent most of my life here--and lots of time poking around the plains and mountains--to the extent that I've seen and can identify most of the showier native wildflowers, and a good many of the less showy ones as well. A few have escaped me.
You can imagine my surprise when visiting the gorgeous native gardens wrapped around the Earl J. Sinnamon Visitor Center at Denver Botanic Gardens at Chatfield when I saw a spectacular Blazing Star. Surely it had to be one of the midwestern ones like L. aspera? I emailed Lauren Springer Ogden (who designed this garden alongside Scott, her husband and partner). "It's L. ligulistylis," she assured me, "the native one." Of course, I've seen no end of the diminutive L. punctata, that dots the prairies all along the Front Range. I'd read references to a larger one, but have yet to stumble on it in the wild. And here it is at Chatfield!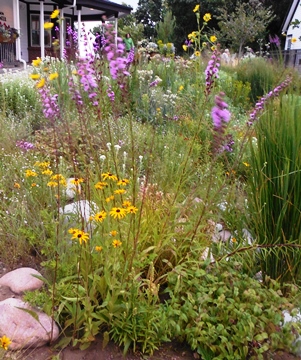 Liatris ligulistylis
As you can see from these pictures, the meadows in the native garden are full of bloom, and the giant spikes of this blazing star take center stage.  Some of them are well more than a meter long. I began researching to see if there might not be some populations of this in the wild near Denver. With our rains this spring and summer, they would surely be blooming well. I emailed lots of keen botanist friends, none of whom have seen this in the wild either. The various herbaria in the region have a dozen or more sitings--from northwest, south central and northcentral Colorado as well as on the Great Plains. Many of these specimens are a century old--those populations may have been extirpated. Now a number of us are on a mission! If you know of wild locations, do please tell us!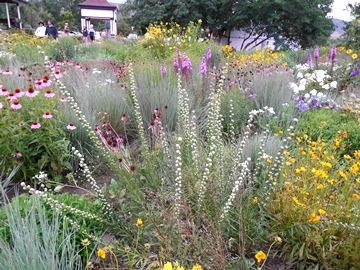 Liatris ligulistifolia in bud
I noticed one specimen with flower buds as shiny as pearls. As you can see, most of them are fully open, but this one plant is still in tight bud, and the buds are beautiful in their own right!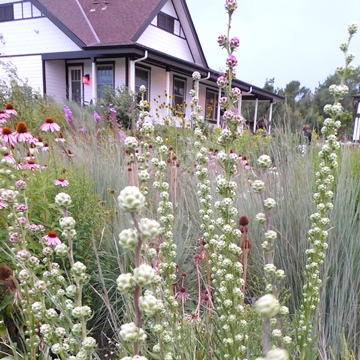 Closeup of buds
Here you can see the pearly buds more clearly. They're scaly and somewhat reptilian--and fascinating!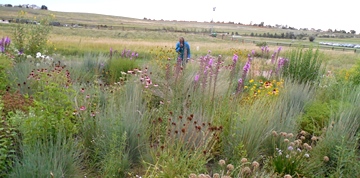 Vista at Denver Botanic Gardens at Chatfield
Here you can see how wonderfully the tapesty of tallgrass prairie plants and the billowy grasses weave together. It's hard to believe that barely two years have come since this was bare earth; the perennials have established and grown so stoutly! There is something magical about the soil in this spot. The plants are at the upper end of their size range although this garden is not watered that frequently.
Lauren and Scott's design is inspired, and this garden is much enhanced by the extraordinary attention to weeding exercized by Emilee Vanderneut, Chatfield horticulturist, and her brave volunteer troops. I've been dazzled by this garden throughout the spring and summer--if you haven't seen it, hightail it out there immediately! You'll never see more glorious meadows this side of the Great Plains (or Rockies come to think of it!)...