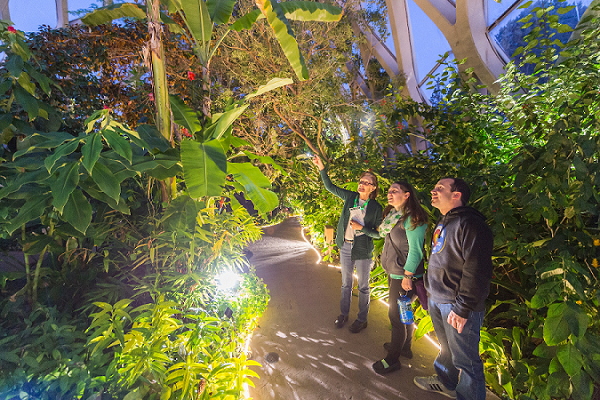 Curiosities abound at our next Off the Clock event! Step into a whimsical wonderland for our newest theme, Secret Garden, where we encourage (nay, we require) your imagination and sense of adventure!
A String Quartet with an Electric Twist
You've never heard strings like this! The four women of Spinphony, an electric string quartet, break down the barriers between classical, rock and pop music. The group has performed around the world and has collaborated with artists such as Josh Groban, Evanescense and 2 Cellos. We are thrilled to feature their innovative stylings at the Gardens!
Tea for All (Not Just the Mad)
Sample a variety of teas and learn to grow your own tea garden with The Queen's TEApothecary.
Blend your own herbal teas to enjoy at home after the event and design your own whimsical hang tags to match.
Get Curious with our Gardens Scientists
Investigate fascinating fungi from our collections and learn their folklore with our Research & Conservation scientists.
Gaze into the looking glass at wonderous plant specimens with Gardens horticulturists.
Whimsy and Wonder
Marvel at larger-than-life performers from Borillo Entertainment, including a living topiary and a giant, moving tree.
Solve riddles to complete our cryptic scavenger hunt while you explore the event.
Capture the moment with your friends and family at our complimentary photo booth.
Twinkle, Twinkle, Twilight Plants
Wander through the Boettcher Memorial Tropical Conservatory in the dark – where you may encounter more than just plants!
Revel in the lush, horticultural delights of Marnie's Pavilion and the Orangery.
Eat Me! Drink Me!
Check out our two cash bars for beer, wine or cocktails. Both cash and credit will be accepted at each bar.
Offshoots Café will be open offering its full menu, but it will also feature a specials menu that celebrates our whimsical theme. Get yours early, specials may sell out!
So join us this Friday for a March affair fit for a hare! Tickets are limited, so purchase yours online today or at the Bonfils-Stanton Visitor Center. Ticket prices go up at the door.
Looking ahead? Make sure you come back for our next Off the Clock, as well:
April 5, 2019
6-9 p.m.
Seeing is believing…or is it? Join us for an evening of mystery, brain teasers and tongue twisters. Explore the possibilities with a tarot card reader, learn about plants that use deception or mimicry to trick their predators, marvel at performers that have mastered the illusions of their crafts, and interact with Gardens scientists who will reveal plants that offer more than meets the eye. Get tickets!