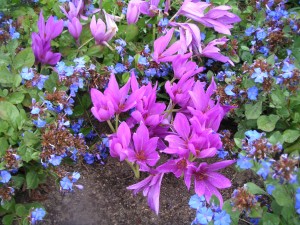 Those of us who work here are surrounded by beauty every day, and sometimes we forget to stop and look at it. The other day, it was drizzling in the Gardens, and I wasn't really in the mood to walk around and report on what you should go look at, so I decided just to take a walk without my "eyes" on. But of course my attention was caught by this, and by that, and before I knew it, I couldn't wait to tell you all about it! So this week: Bits and Pieces.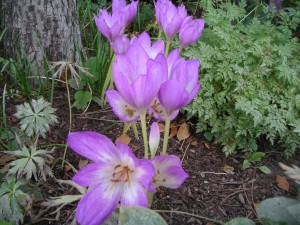 • Bits: Colchicum—Autumn Crocuses—are pushing up in a number of places, most notably Shady Lane and the Perennial Walk. They are big and beautiful, especially in combination with other flowers.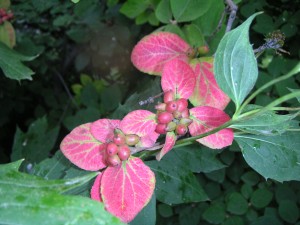 Another sure sign of Autumn is offered by the lovely Korean spice viburnum (Viburnum carlesii), just beginning to turn red in Woodland Mosaic.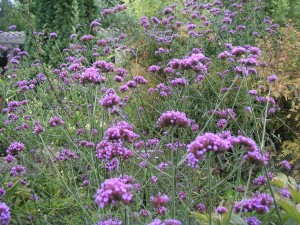 • Pieces: Verbena bonariensis has been in bloom for awhile now, but in masses, it really shows off. See it out front in our street display, and elsewhere such as the Rose Garden.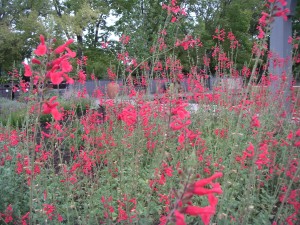 Also gorgeous in masses is the Mexican Sage (Salvia darcyii), blooming in the Plant Select Garden.
Favorite lunch spot this week: Pick a bench in the sun or the shade, in the brick crescent area of the Rose Garden.
Gardens to spend time in: Still going strong, Lainie's Cutting Garden and the All-America Selections Garden are blazing with color. Take in the view from the top of the Parking Structure to see the subtle creep of gold in the trees. And remember that this is the last full week of late hours. Come in to see the Henry Moore sculptures and gardens lit up and hear the trees singing with crickets. Starting Oct. 1, we will close at 5 p.m.