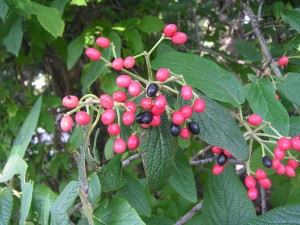 This time of year, berries are calling out from trees and shrubs: they call to the birds and squirrels who disperse their seeds, and also to you and me to appreciate. Keep a lookout for berries on your walk this week.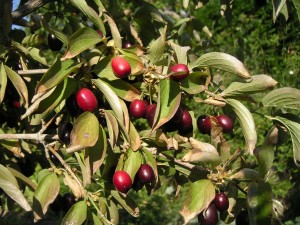 • Berries: Cornelian Cherry (Cornus mas) has the earliest blooms of just about any tree in the Gardens, usually appearing in March or even February. Its small but welcome yellow flowers become deep red berries; find them in the Romantic Garden. Toward the west end of this garden, you can also find several viburnums with showy berries, Viburnum lentago (Nannyberry) and Viburnum x bodnantense (Arrowwood.)
• Berries: The Birds and Bees Garden has numerous berry-filled shrubs and trees, as well as great fall color a little later on.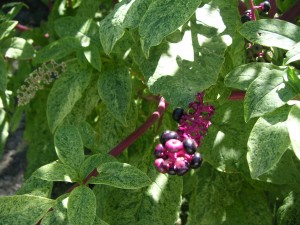 Check out the Pokeweed (Phytolacca americana 'Silberstein') with its gorgeous variegated leaves and deep purple berries on magenta stems.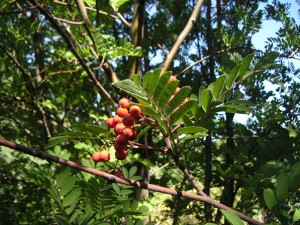 Also admire the orange rowan berries (Sorbus), here and around the grounds.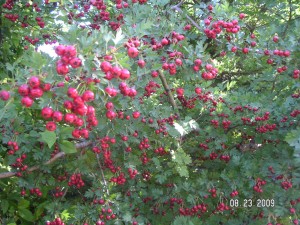 • And Berries: Two of my favorite berries are prolific this year: the Russian hawthorn tree (Cretaegus ambigua) with its fire-engine red berries and lovely serrated leaves can be seen near the Monet Pool and in the Japanese Garden.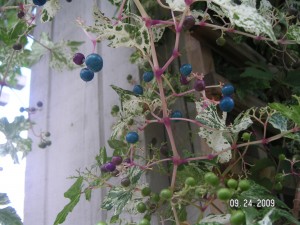 And porcelain berry vine (Ampelopsis brevipedunculata) is astonishing, with small berries that start out green and migrate through yellow, orange, magenta, teal and purple during the course of their lives. This vine grows all over the west end of the Rose Garden pergola.
Favorite lunch spot this week: Settle yourself on the large flat rock on the east end of the Birds and Bees Garden, and enjoy the first breaths of Fall.
Gardens to spend time in: The Perennial Walkway looks great right now, bursting with purples and golds. The Japanese Garden, always beautiful, is just starting to show some fall color, and don't miss the reflection of the Lespedeza in the water. Fall is also a great time to visit the Birds and Bees Garden, with its profusion of berries and bright leaves.