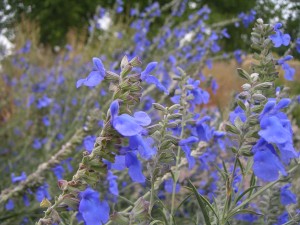 Now that the weather seems finally to be cooling down, take a stroll around the Gardens to catch the last of the late summer blooms and beginnings of fall color. A bit of each for you today: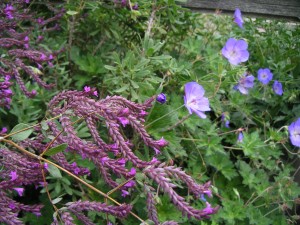 • A Little Summer: I've been finding some sweet little color combinations lately, like this decorative oregano alongside hardy geraniums. Spot this in the Romantic Garden just outside the Herb Garden. Also check out the masses of Salvia azurea growing in the Cottonwood Border—not to be missed!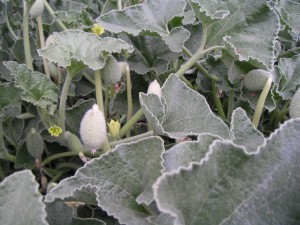 And for October thrills and chills, visit the squirting cucumber (Ecballium elaterium) in the Rock Alpine Garden near the Cactus and Succulent House. Once the fruit is ripe, the lightest touch will cause it to explode, sending its seeds and juice far and wide—pretty clever, no?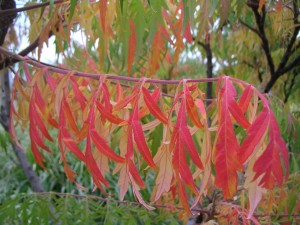 • A Little Fall: Buckeye and sumac are starting to change color, with other signs of autumn not far behind. The buckeye trees (Aesculus glabra), with their distinctive nuts, can be seen in South African Plaza. Find sumac (Rhus typhina) in the Ornamental Grasses Garden.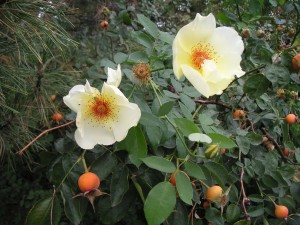 • A Little of Both: Many roses are still in bloom, including this rose (Rosa 'Golden Wings') found in Shady Lane. It is still showing flowers alongside its gigantic golden-orange hips.
• Favorite lunch spot this week: One of my favorite spots—the high bench in the Gates Montane Garden—overlooks the gentle fall colors beyond the pond. So peaceful!
Gardens to spend time in: The Romantic Garden is still full of color. The Rock Alpine Garden features large swatches of blues, reds and purples (plus those squirting cukes!). And the Laura Smith Porter Plains Garden make you feel as though you are far away from the city.