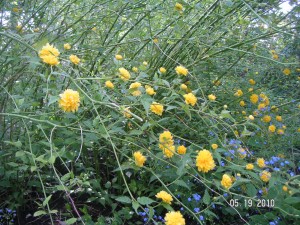 This time of year—well always, really—I have my eye out for unique and interesting items that I might want to add to my own garden—there is always room for one more! Here are a few I found this week: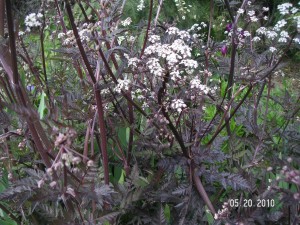 • Black: Dark purple-black foliage gives a garden a cool, sophisticated look. Take a look at the black Queen Anne's Lace (Anthriscus sylvestris 'Ravenswing') with its tiny white flowers. Or you might prefer the maroon Barberry (Berberis var.), at the moment absolutely covered in small yellow flowers. Find good examples of both of these in the Romantic Garden.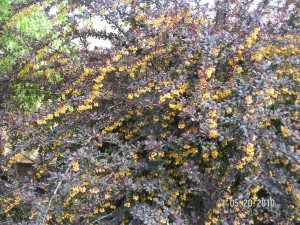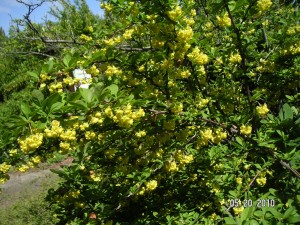 • Green: Also covered in yellow flowers, Berberis dielsiana offers a green-leaved version of this hardworking shrub, found in the Birds and Bees Garden. Kerria japonica 'Pleniflora' is one of my favorites, with perennially green twigs sporting fluffy yellow flowers. See ours in full flower in the cool, green Woodland Mosaic Garden.
• And Every other Color…: In the midst of lilac profusion, the large specimen (Syringa vulgaris) called "Beauty of Moscow" caught my eye with its not-quite-white, not-quite-purple blooms. See this cultivar in the Romantic Garden, next to the round lily pond. Also be sure to catch the enormous purple lilac bush, with its reflection, at the Water Garden Gazebo. And be sure to admire the delicate apricot-colored blossoms—not the usual red—on the flowering quince (Chaenomeles x superba 'Cameo') in the El Pomar Garden.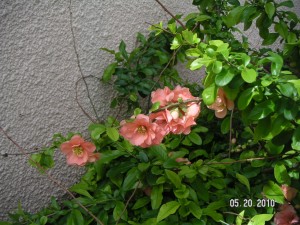 Favorite lunch spot this week: Climb up to the stone bench on Anna's Overlook for a sunny view of everything!
Gardens to spend time in: The Rock Alpine Garden continues to delight, as does the Water Smart Garden with its expanses of orange California poppies (Eschscholzia californica). The Lilac Garden is filled with blooming lilacs and iris, and it's definitely peony time in PlantAsia. Birds and Bees and Woodland Mosaic are gorgeous with spring woodland flowers, shrubs, and trees.