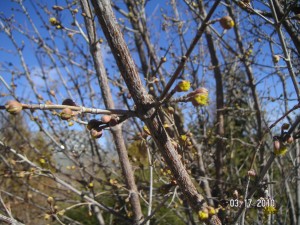 Spring is here (well, okay, not today!), and everywhere in the Gardens, I see signs of preparation.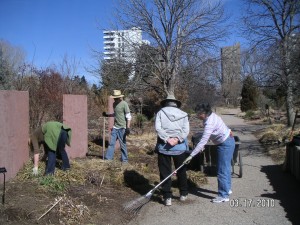 • Clearing: Last season's grasses and stalks are being removed to make way for the fresh green shoots and leaves already poking up. Volunteers are a key piece of the action around here, and this time of year they are swarming the grounds like an industrious army of ants, leaving neat, tidy beds in their wake!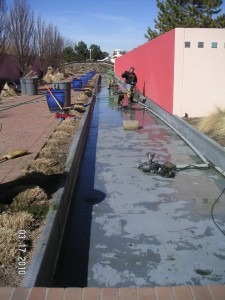 •  Cleaning: Waterways are being drained, mucked out, and refilled. The goldfish are waking up and basking in the sunshine. Shoots are starting to poke out of the water-plant pots in the Monet pond, and fish that didn't make it through the icy winter are being respectfully scooped and removed.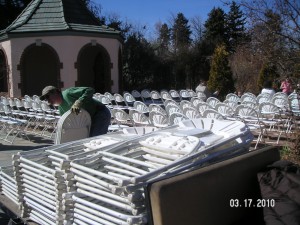 • Rehearsing: Staff set up wedding chairs in the Romantic Garden, to see what affect the Henry Moore sculpture would have on the available space. We are preparing for a busy wedding season ahead.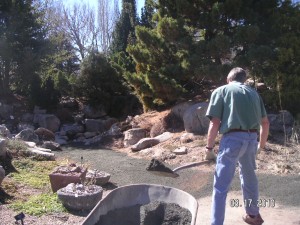 • Patching: Fresh gravel is being laid down on numerous paths throughout the Gardens. A cold and icy winter, along with a year's worth of construction and construction equipment had taken a toll on our side paths.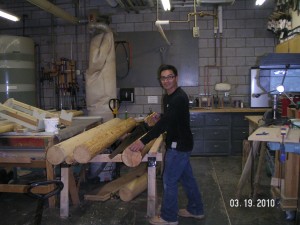 • Repairing: New wooden posts and rails are being created and installed throughout the Boettcher Memorial Tropical Conservatory. The moist, warm environment takes a toll on the wood, and replacement is necessary every few years.
• And, of course, the plants: Cornus mas, the earliest shrub to put out blossoms, is covered with just-opening yellow flowers. Find several of these along the curvy path in the Romantic Garden.
Favorite lunch spot this week: Bask in the sun along the main pathway in front of the Water-Smart Garden, and watch the kids roll down the amphitheater. From here you can see at least three Henry Moore sculptures.
Gardens to spend time in: Spring is most evident in the Water-Smart Garden and the Rock Alpine Garden. The Green Roof garden is rich with texture and color.