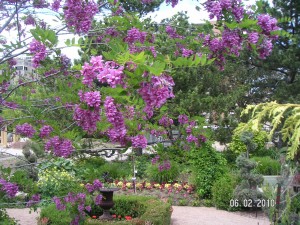 This is the time of year when the calendar pages seem to flip by like they do in an old movie. Here, I measure time passing in plants: tulips—gone; daffodils—gone; crocuses—long gone. Lest we get too depressed, though, there is so much more to come! This week, dozens of plants are popping into bloom.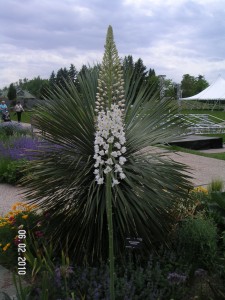 • Those Tall Spiky Things: This is the season for Eremurus, also known as Foxtail Lily or Desert Candle. Native to the steppe climate of Central Asia and northern India, these bulbs put up spikes in whites, yellows, and coppery oranges. Find Eremurus all over the Gardens.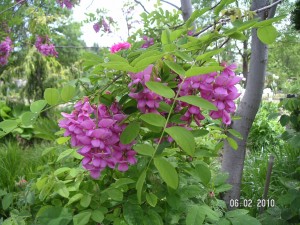 • Is That a Wisteria Tree?:  No, but it looks like one. The Robinia, or Black Locust, growing right next to the Monet Deck Café, features clusters of rich pinky-purple flowers in early summer (some cultivars have white flowers). A member of the pea family, both leaves and flowers resemble the ever-elusive Wisteria, which rarely blooms for us here in Colorado.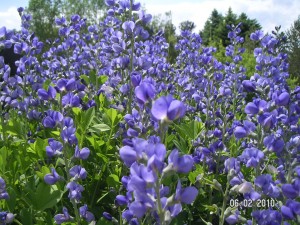 • More Beautiful Beans: The pea and bean family (Fabaceae) offers some gorgeous flowering shrubs, trees, and vines. Among them in Baptisia, with brilliant blue flowers that turn into interesting pods. See Baptisia in bloom in the Cottonwood Border and Wildflower Treasures, among other places.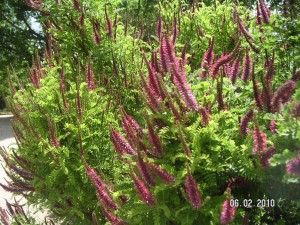 • And One More: Yet another member of Fabaceae is Amorpha, also called False Indigo. Reddish flower spikes stand up from this small-leaved shrub. See the dwarf version in Wildflower Treasures.
Favorite lunch spot this week: If it's not too hot, grab a bench along the Water-Smart Garden—everything is in bloom there!
Gardens to spend time in: Take a peek at the peonies in the Rose Garden, and catch a few of the earliest roses in bloom; the Lilac Garden is a stunning array of color; Wildflower Treasures is showing off Colorado natives; and Water-Smart Garden doesn't get much better!