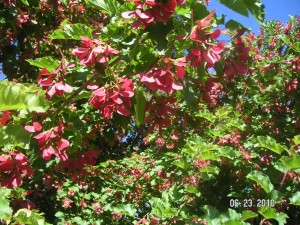 Some days I like to wander into the middle of things, to find the showiest and the most exciting, but this week my walks are taking me to the edges and outskirts of the Gardens, to see things I've overlooked for awhile. This time of year the hidden paths and sneaky back ways are both quieter and cooler than some of the roads more travelled.
• Outskirts: You absolutely must see the tatarian maple (Acer tataricum) outside the fence, just south of the main entrance! This tree is covered in fire-engine red seed pods--a striking effect. While you're there, admire the espaliered apple tree rescued from the Monet Garden and thriving along the fence. Espalier is a method for training the limbs of trees to grow two dimensionally along walls or fences. Originally, it was developed to take maximum advantage of the limited space and warm stone walls of European kitchen gardens. See other espaliered trees being trained along the parking garage trellises.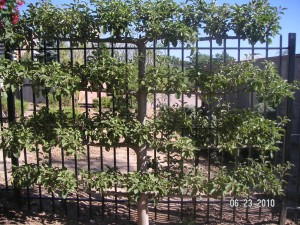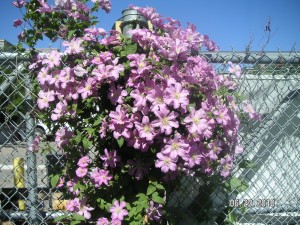 • Edges:  Also outside the fence, this time just next to the entrance to the construction parking lot, you can see a tenacious clematis, resplendent with pinky-purple blooms. The clematis are mostly just beginning to flower throughout the Gardens, but this one seems to be at its peak this week.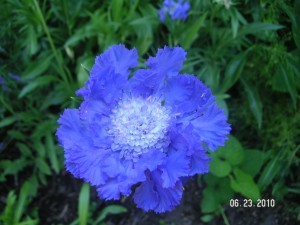 • Back Roads: Wandering the back paths within the Gardens, you'll run across beauties such as the huge, deep blue flowers of Scabiosa caucasica, way back in Woodland Mosaic. You'll come across a thicket of the huge-leafed Petasites japonicus, deep off the main path in the Japanese Garden. And you'll see a bit of behind-the-scenes in the form of hidden compost piles and plants waiting to go in the ground.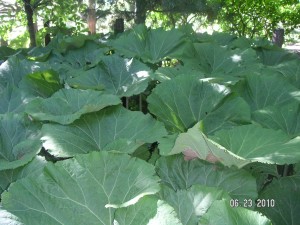 Favorite lunch spot this week: Any one of several shady benches in the Woodland Mosaic garden.
Gardens to spend time in: Some of my favorite out-of-the-way paths can be found in the Knot and Scripture Gardens, Woodland Mosaic, the Rock Alpine Garden, Gates Montane Garden and the Japanese Garden.