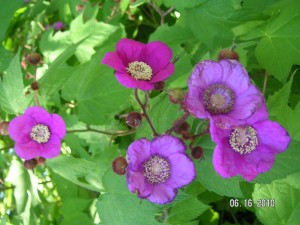 A few highlights for you this week:
• Scents: Fragrances are floating through the air these days. Sometimes it is difficult to tell just where they are coming from,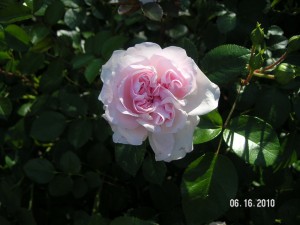 but step into the Rose Garden and you know for sure. The roses had a hard winter this year, but they are coming back in force and now is the time to pay them a visit.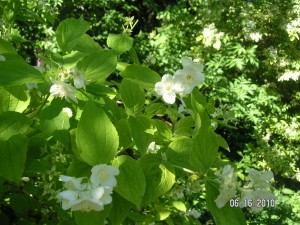 • More Scents: Mock Orange (Philadelphus 'Belle Etoile' and others) is in full bloom in several spots in the Gardens just now. It is not even slightly related to oranges; in fact, it is a member of the hydrangea family. However, the scent can be reminiscent of orange blossoms. Bury your nose in some in the Birds and Bees garden, the Romantic Garden, and elsewhere.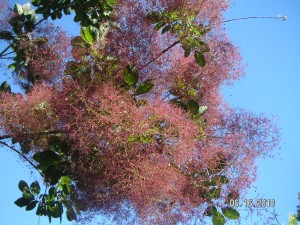 • Non-Scents: A couple of favorites are blooming now: purple smoke bush (Cotinus coggygria) always stands out with its deep purple leaves and halo of "smoky" plumed blossoms. You can find these in a number of places, including along the Perennial Walk. And I love the flowering raspberry (Rubus odoratus) for its fresh green leaves and brilliant pink flowers. See it in Woodland Mosaic.
Favorite lunch spot this week: Find a bench in the Rose Garden to enjoy the quintessential June flower.
Gardens to spend time in: The Romantic Garden for an abundance of blooms, Le Potager for the precise beds and bountiful growth, the Cottonwood Border for its rich texture, the Rock Alpine Garden for its profusion of tiny bloomers.