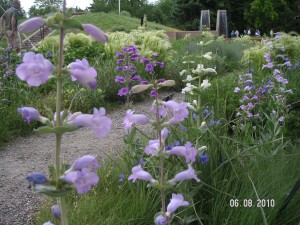 There is much to choose from this week! Whether you are looking for a profusion of blooms, a delicate Colorado landscape, or a dry and prickly color feast—you can find it here!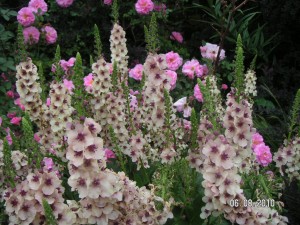 • Cottage Garden: When I hear the words "cottage garden," my first thought is of cool, misty English mornings, a tangle of old-fashioned flowers in gentle hues overflowing a small, picket-fenced yard. Our own version of this delight is the Romantic Garden with all its paths and hidden corners. See wisteria, honeysuckle, masses of climbing roses, old-fashioned mullein (Verbascum), and the gorgeous fountain butterfly bush (Buddleia alternifolia), tumbling over each other in lush profusion.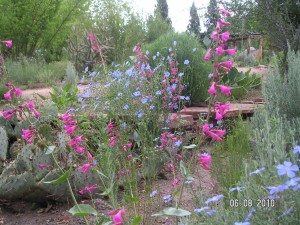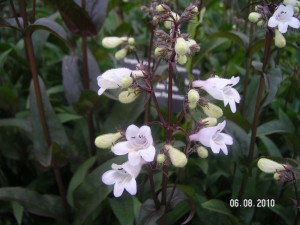 • Penstemons Galore: The columbine is Colorado's state flower, but it might as well be Penstemon—they seem to love our climate. There are hundreds of different Penstemon species, and you'll find many of them all over the Gardens. In particular, take a look at the Cottonwood Border for some of my favorites, Penstemon grandiflorus, and admire the unique reddish leaves and white flowers of Penstemon digitalis 'Husker Red' found in the Perennial Walk and many other places.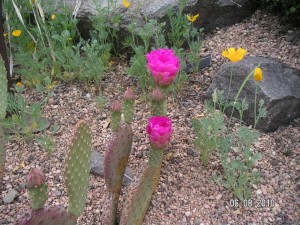 • Xeric Bounty: Now is a great time to stop by Dryland Mesa. The prickly pears (Opuntia aurea) whose pads were such a lovely red in the winter are now sporting eye-catching magenta flowers. Other cactus and desert plants are in bloom, and what looks to be this season's sole agave flower is pushing up its gigantic stem.
Favorite lunch spot this week: The benches on the west end of the Romantic Garden allow you to view the early water lilies as well as take in the glorious sights and scents.
Gardens to spend time in: Dryland Mesa, the Romantic Garden and the Cottonwood Border are all worth a visit. Admire the beauty and fortitude of the Japanese Tree Lilac (Syringa reticulata) which survived the excavation and renovation in the new Radichel Plant Select Garden.