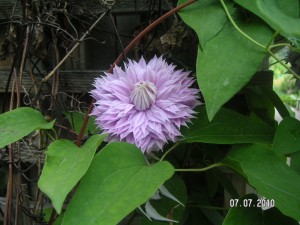 A lot of visitors come here to investigate plants to grow in their own gardens. They often have specific needs: plants that will grow in shade, plants that will bloom in late summer, plants that can tolerate hot sun. This week, take a look at a few examples of plants that creep and plants that climb.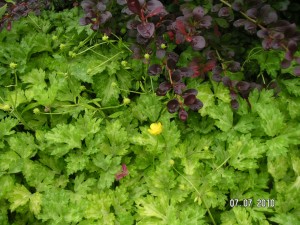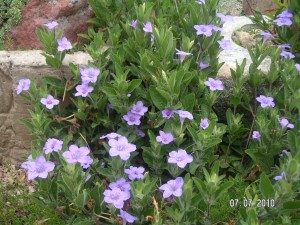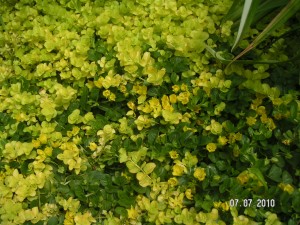 • Creepers: Ranunculus 'Buttered Popcorn' crawls in and out among the plants in the Perennial Walkway, brightening the bed with its variegated leaves and yellow buttercup flowers. And out in the xeric Wildflower Treasures garden, you can see plenty of Ruellia, a wild form of perennial petunia covered with lavender flowers. Then stop by the Lilac Garden to see the intertwined leaves of both the green and gold versions of Creeping Jenny (Lysimachia nummularia) with their little yellow flowers.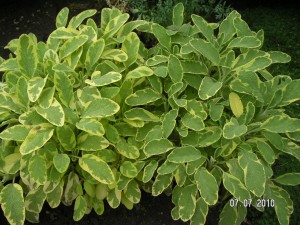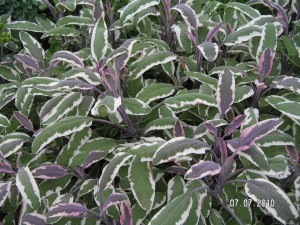 • Herbal Groundcovers: Many herbs make great groundcovers—thyme, for example. A pair of sages in the Herb and Knot Gardens seem made to be decorative as well as edible. Salvia officinalis 'Icterina'  is a lovely green sage with yellow edges, and S. officinalis 'Tricolor' features leaves in red, white and green. Both plants are tough, hardy, and drought tolerant.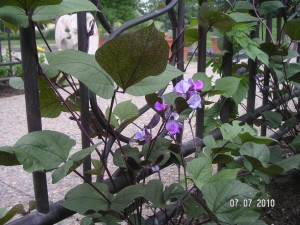 • Climbers: Be sure to admire the grape arbor in the Herb Garden—it is loaded with fruit! Other climbers include Clematis, such as 'Josephine' and honeysuckles, for instance Lonicera reticulata 'Kintzley's Ghost' with its unusual round, grayish leaves. See both of these in the Rose Garden Pergola. And in the All-America Selections Garden, you'll find the eye-catching Ruby Moon Hyacinth Bean (Lablab purpureus), with purple-tinged leaves, lavender flowers and deep purple seed pods.
Favorite lunch spot this week: Two tables in the Cutting Garden, just behind the Monet Café, offer a pleasant lunch spot among the colorful flowers.
Gardens to spend time in: The Herb Garden and Knot Gardens are tranquil and classical; Lainie's Cutting Garden is coming into its own; water lilies and ducklings make the Monet Pool a delight.