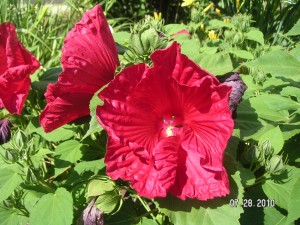 A recent New York Times article has generated some discussion on our Facebook site. The article discusses the trend of major botanical gardens to expand into ever new territory—highlighting food, entertainment, sustainability—in short going beyond their traditional realm of pretty flowers aimed at elderly ladies! While we here at Denver Botanic Gardens are also working hard to broaden our reach, rest assured that we have no plans to abandon pretty flowers (and we will always love elderly ladies)!
• Colors to Admire: Slow down to admire some of the gorgeous, eye-catching blooms currently at their peak. Spend some time enjoying the bees, butterflies, and hummingbirds as they go about their business.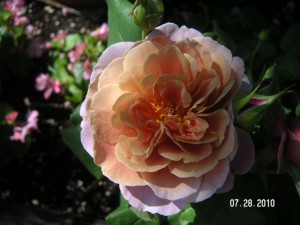 At the entrance to the Rose Garden, Rosa 'Distant Drums' changes colors from peach to pink as it opens.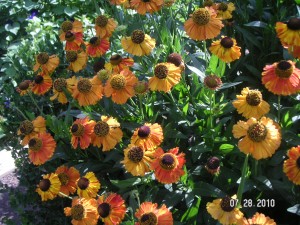 And enjoy the bright colors of Lainie's Cutting Garden, with flowers such as Helenium 'Mardi Gras', also known as sneezeweed.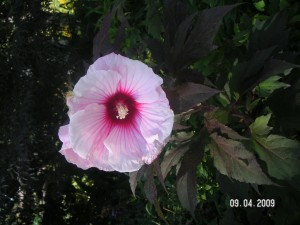 • Hardy Hibiscus: August is the season for hibiscus! Although we typically think of hibiscus as delicate tropical flowers, our summer-blooming hardy hibiscus are both tough and gorgeous.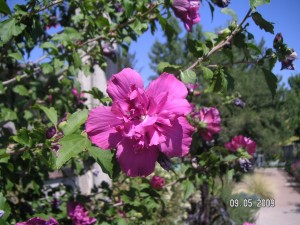 We have many examples of Hibiscus syriacus (Rose of Sharon) and Hibiscus moscheutos (giant hardy hibiscus) to enjoy.
Favorite lunch spot this week: Enjoy the new trellis at the new Darlene Radichel Plant Select garden. Tables and chairs offer a lovely view of the waterlilies in the Monet Pool.
Gardens to spend time in: Three gardens cared for by our own horticultural color-artist, Maria, are splendid just now: the All-America Selections Garden, Lainie's Cutting Garden and the garden formerly known as the Drop Dead Red Border. Take a morning or evening stroll through the Plains Garden to experience the waving grasses and wild flowers, and walk along the upper Birds and Bees Walk path to get out of the heat and bustle of the real world.