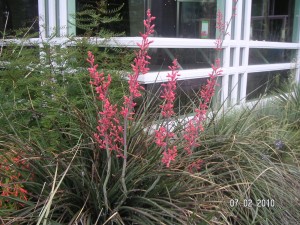 Summer is really here, as I'm sure you've noticed! Though I always lament the passing of the spring flowers, the heat loving plants are out in force!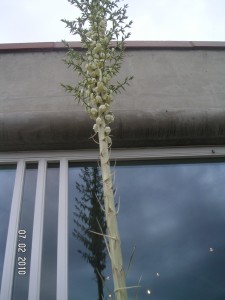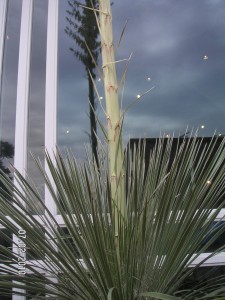 • Pricklies: The Yuccas are in full bloom now, with their lovely bell-shaped white flowers. Make sure you peer up at the hugest yucca flower (Yucca elata) that I myself have ever seen, in the courtyard just in front of the Boettcher Memorial Building. It is 15 feet tall if it is an inch. Also in bloom in this area and elsewhere, the red spikes of the Hesperaloe, a true heat lover.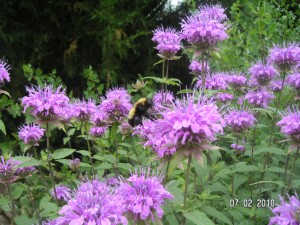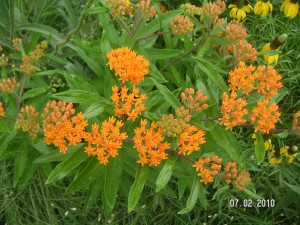 • Bug Friendly:  Two bright beauties are made to lure pollinating insects: Monarda didyma, also called Bee Balm, and Asclepias tuberosa, known as Butterfly Weed. These colorful flowers can be seen throughout the Gardens.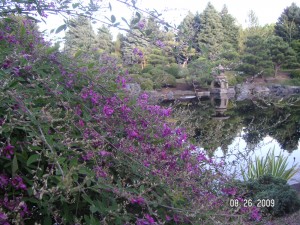 • And One More: One of my favorite, Lespedeza var. (Bush clover), is blooming in the Japanese Garden now, and will soon bloom in the Cottonwood Border. Its delicate look belies its ability to stand up to the heat.
Favorite lunch spot this week: Head to the obvious spot—the Monet Deck—for shaded tables with a view: north to the waterlilies, or south to the restful kitchen garden (Le Potager.)
Gardens to spend time in: The Rose Garden is a joy; the Plains Garden offers a tranquil scene on a cloudy day or in the evening; Le Potager just looks so tidy and bountiful!