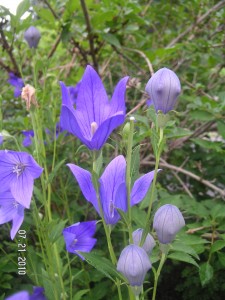 Random bits and pieces from the Gardens…
• Spheres: Several round objects caught my eye this week.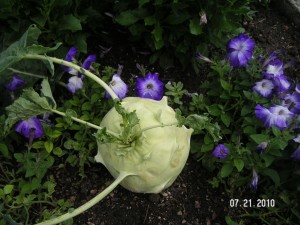 Check out the kohlrabi (Brassica oleracea) in the All-America Selections Garden. A relative of cabbage, this plant looks like it flew in from outer space.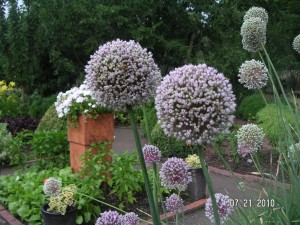 Also in the vegetable-as-decoration category, view the beautiful leek flowers (Allium ampeloprasum) in Le Potager. Touch them too; they feel like koosh balls. And be sure to see the balloon flowers (Platycodon) blooming in the Romantic Garden. Their buds are round balloons, which open up into purple or white flowers.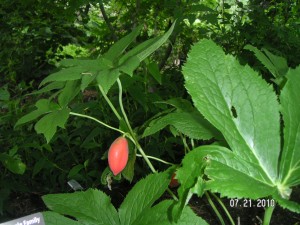 • Fruits: Find the hidden mayapples (Podophyllum peltatum) with their red fruit in PlantAsia. And yes, the profuse apricot blossoms did not disappoint this year; the trees in the Scripture Garden are laden with fruit.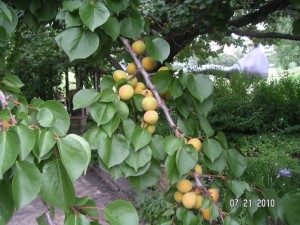 The apricots, like the surplus veggies in our kitchen garden, will be donated to local organizations feeding the hungry. Also in the fruit category (sort of) is the wheat (Triticum) waving in the Fountain Gardens. It makes a beautiful backdrop to the Reclining Figure Arch Leg sculpture.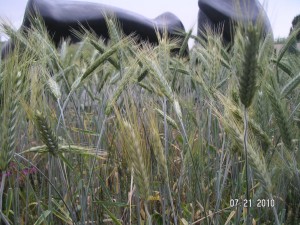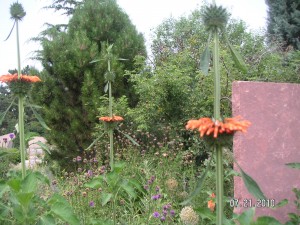 • And Flowers: South African Plaza is sporting the eye-catching Leonotis, which sends out collars of orange flowers on a tall stalk. And you can see Sea Holly (Eryngium) in bloom in Perennial Walk, Water Smart Garden, and elsewhere.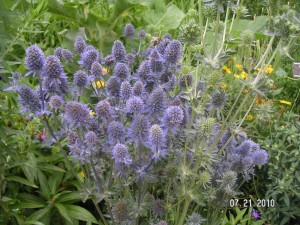 Favorite lunch spot this week: Climb to the high hidden bench in Gates Montane Garden for a shady spot with a view of the pond.
Gardens to spend time in: PlantAsia, cool, tranquil and exotic; Lainie's Cutting Garden, bursting with color; and don't forget the water gardens, with water lilies and lotus blooming and reflecting in the dark water.