Who better than our own Horticulture staff would know what merits your attention in their gardens? I asked a couple of them for their recommendations on what to look for this week.
• Heat Lovers: Senior Horticulturist Dan Johnson, who oversees many of our xeric gardens, notes that the Russian sage (Perovskia atriplicifolia) is in full bloom just now, providing waves of lavender flowers and a dry, sagey scent. He also calls out the Mexican cone flower (Ratbidia columnifera) for its vibrant golden or red-gold colors. See both in the Water-Smart Garden and elsewhere.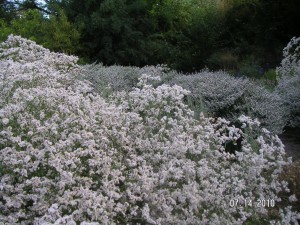 • Overlooked: Amy Schneider, Gardener in June's PlantAsia and Wildflower Treasures, pointed out the two gorgeous specimens of St. John's Wort (Hypericum kouytchense 'Sungold') adorning the area just between the bench and the Moon Gate on the west end of PlantAsia. These shrubs, which took last October's deep freeze pretty hard, are now covered in blossoms just starting to open into large golden blooms. Amy also directed me to the German Statice (Goniolimon tataricum) in huge white drifts, in the Steppe Garden section of PlantAsia.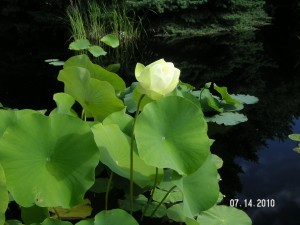 • Whites: Now is a great time to catch a few of my favorite whites: the first lotus (Nelumbo) is blooming on the west end of the Monet Pool; in Sacred Earth Garden, the deadly but beautiful Datura boasts white trumpet-shaped flowers; prickly poppy (Argemone) also graces Sacred Earth as well as the Plains Garden; and the gorgeous Hydrangea 'Annabelle' lines the path into Oak Grove.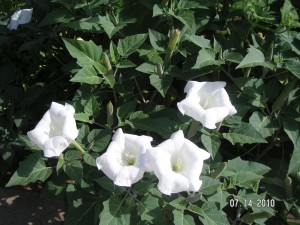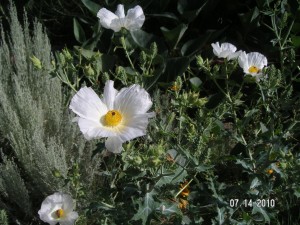 • Favorite lunch spot this week
 The ting in PlantAsia provides a shady spot to take a break.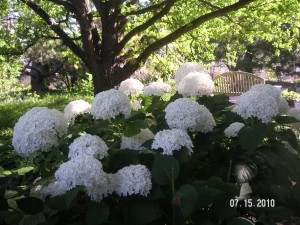 • Gardens to spend time in
Birds and Bees Walk or Gates Montane Garden, both for a cool walk in the woods; June's PlantAsia, which is like taking a mini-vacation to a distant land; and Dryland Mesa/Sacred Earth, where you can indulge your inner heat-seeking desert rat.