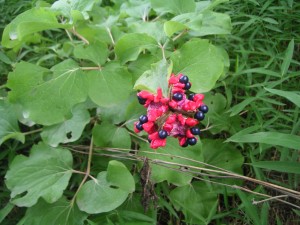 A number of interesting plants caught my eye this week:
• Honey to the Bees: A pair of enormously fragrant plants are at their peak this week. Each has flowers that smell of honey, so if you can get your face into them, you'll be delighted. Just watch out for the bees, who are also delighted!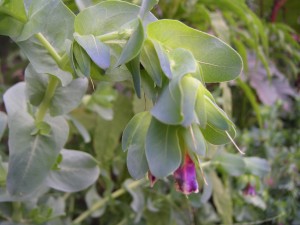 Honeywort (Cerinthe major) grows in the former Drop Dead Red border (northeast of the Monet water garden), is a reseeding annual, and has a gorgeous, subtle, blue-green-purple color scheme.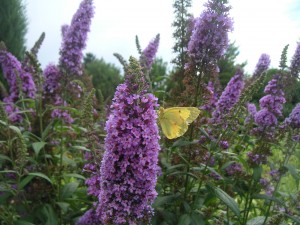 Also look for Butterfly Bush (Buddleja or Buddleia) with its intoxicating flowers in purples, pinks, and whites. A lovely example can be found in the Lilac Garden.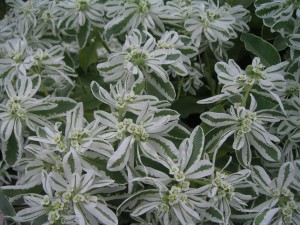 • Painted Jewels:
Two plants caught my eye this week for their standout color. Euphorbia marginata grows just south of the Water Garden Gazebo. Its variegated leaves shine white (with just a little green thrown in for fun.) And hidden in the underbrush in Birds and Bees Walk is the incredible seed pod of a species Peony (Paeonia). The red and black seeds and pod are going to knock your socks off.
Favorite lunch spot this week: Sit under the gazebo at the Victorian Secret Garden, where you can see the colors of Lainie's Cutting Garden and of the Monet Pool.
Gardens to spend time in: Once again, Lainie's Cutting Garden astonishes. Sacred Earth boasts a profusion of sunflowers, amaranth, cleome, and datura. And the water gardens continue to sparkle with brightly colored jewels.