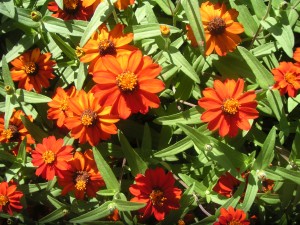 I've always been a gardener who has looked down my nose a bit at annuals—those flowers that need replanting every single year. Aren't they a bit pedestrian, invented for those folks who don't have the good sense to buy a perennial and watch it come back year after year?
Except that they are gorgeous. And in the heat of August, they are at their peak, providing absolutely endless color right up until frost. So this week, an homage to the annual: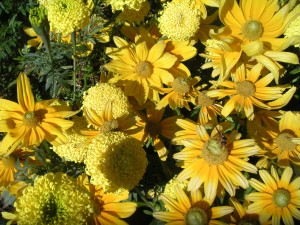 • Traditional: What could be more ordinary than marigolds and brown-eyed susan (Rudbeckia)? But look how splashy they are when they are artfully placed! Another fairly common annual, the zinnia (here, Zinnia 'Profusion'), adds vibrant color to the All-America Selections Garden.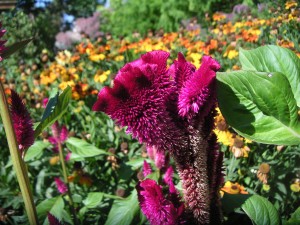 • Less Traditional: Cockscomb (Celosia) comes in several varieties; some look something like fuzzy flames, while others twist in interesting ways.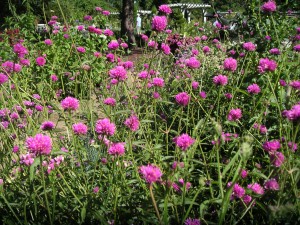 Gomphrena is another favorite, but check out Gomphrena 'Fireworks' which grows taller than the usual. Both of these plants belong to the Amaranth family. See them in Lainie's Cutting Garden and the AAS Garden.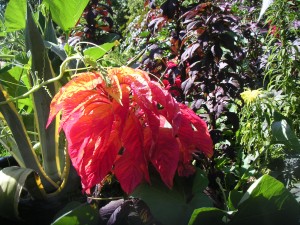 • Pretty Darn Strange Looking: Take a peek at Amaranthus tricolor, to see yet another member of the family. Also called summer poinsettia, its green leaves turn vivid colors as summer heats up. See it in the border just north of the Monet Pool. It is a very different plant from Amaranthus cruentus or Amaranthus caudatus, both of which you can also see in the Gardens, in the Sacred Earth Garden and elsewhere.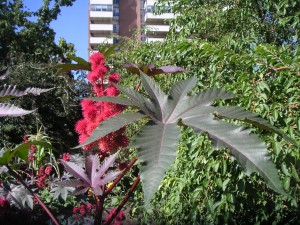 While you are looking at the tricolor, be sure also to check out the Suessian castor bean plant (Ricinus comunis) and artichoke (Cynara cardunculus).
Favorite lunch spot this week: Sit on the berm overlooking the All-America Selections Garden, to enjoy the patchwork of color.
Gardens to spend time in: For color, Lainie's Cutting Garden is fabulous, as is the AAS Garden. Don't miss the vegetable garden—Le Potager—which is brimming with beautiful veggies and flowers.