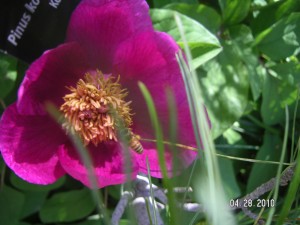 Feeling a bit whiny about the cool, grey, rainy weather? Tired of bundling up every morning? Just remember, this kind of weather prolongs the gorgeous spring we are enjoying. Once it gets hot, the pink and white trees will turn green, and a bit of the magic will be gone. So enjoy!
• Blossoms: Cherries and crabapples are glowing in shades of pink everywhere you look. Don't miss the delicate Prunus subhirtella (Winter-flowering Cherry) located beyond the moon gate in June's PlantAsia. Also, weeping cherries and crabapples form delightful bowers of color throughout the Gardens. Makes you want to crawl underneath one with cookies and milk...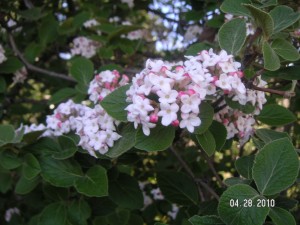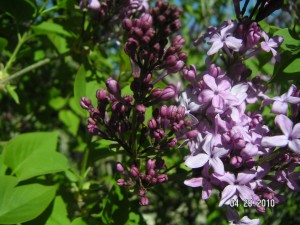 • More Blossoms: Especially on a misty day, the scent of the blossoms can be intoxicating. Be sure to check out the Korean Spice Viburnum (Viburnum carlesii) and its sister viburnums (viburni??) along the main path in Woodland Mosaic. These plants are part of the honeysuckle family. And in the scent department, none more wonderful than lilacs, which are just starting to open in the Lilac Garden.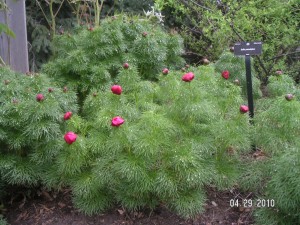 • Blooms: Trust Mike Kintgen to cultivate the Gardens' first peony blooms (Paeonia var.) of the season. In the next few weeks, we'll see peonies in PlantAsia and elsewhere, however head out to the Rock Alpine Garden this week to view the first of these colorful flowers. Note: Paeonia tenuifolia (Fern-leaf Peony) should open this week in June's PlantAsia. Be sure to catch these brilliant red flowers amongst their delicate halo of leaves.
• Of Interest: Paulownia elongata, a native of Asia, is a fast-growing flowering tree in warmer climates. Here at the Gardens, however, it is a fast-growing, leafy perennial Jack-in-the-beanstalk! By next fall, this plant, found in the Victorian Secret Garden, will reach a height of 25 or 30 feet, only to die back over winter and start again.
Favorite lunch spot this week: Any bench in the Japanese Garden will make you happy this week.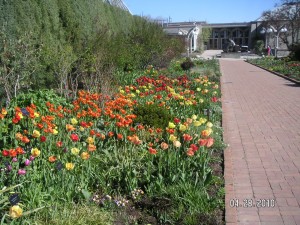 • The O'Fallon Perennial Walk continues to reveal color and shape. The Rock Alpine Garden is in full flower. The Water-Smart Garden offers plenty to see and PlantAsia is a delight with rich greens and spots of color.