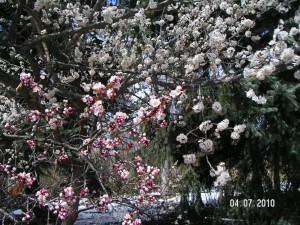 Finally, I can believe spring has truly arrived! The Gardens, which have spent the winter cloaked in browns, goldens, greys, and white, have begun to sprout colors. Trees are putting out leaves and blossoms, and the sounds of bees and birds doing their spring work is everywhere. Take some time to stroll in the sunshine and enjoy!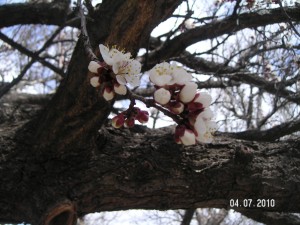 • Blossoms: The earliest flowering fruit trees—the apricots (Prunus armeniaca)—are in full swing this week. Once every few years we are lucky enough in Denver to see weather that allows these trees to go from flower to fruit, without being frozen out. Will this be the year? See apricot trees in the Scripture Garden and on the east end of the Laura Smith Porter Plains Garden.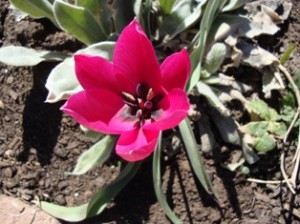 • Bulbs: The tulips are beginning to open, with a few early hybrids and species tulips braving the still-cold nights. Tulips, which are native to steppe climates like our own—they come mainly from Central Asia—have been extensively hybridized over the centuries. But the unhybridized version—the species tulips—are gaining in popularity for their tough constitutions, naturalizing habit (i.e. they spread further each year like daffodils or crocuses) and intriguing leaf shapes and colors, not to mention jewel-like flowers.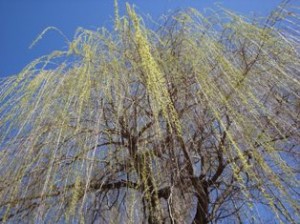 • Leaves: All over the Gardens, tiny bright green (and red, and golden) new leaves are appearing on branches. Squint your eyes, and the world turns into a shimmer of freshest green.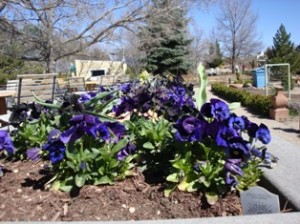 • Color: Don't forget to admire the pansies, those workhorses of the winter garden, finally letting loose in all their vibrant color. They accent the O'Fallon Perennial Walk and rim the Monet Deck with a necklace of bright hues.
Favorite lunch spot this week: The benches in the El Pomar Waterway offer a concert of dramatic music to accompany the sounds of the water.
Gardens to spend time in: The Perennial Walk just gets better and better from here on out. Also keep an eye on the Rock Alpine Garden; April is a high point there. Watching the Japanese Garden green up is also well worth the walk.