If you are like me, right now you are politely thanking summer for all its delights, and telling it to get lost already—it's Fall! I went in search of autumn in the Gardens this week, and found the beginnings, as well as plenty of summer color to enjoy. Do be sure to come visit one last time (or two) before first frost—the landscape definitely changes after that, and it could happen any day now.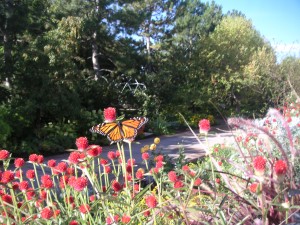 Summer Color
The landscape is vibrant with color and busy with bees and butterflies stocking up for the winter months. This globe amaranth (Gomphrena) made the perfect landing pad for a butterfly, and can be found lining the planters between Shady Lane and the Orangery.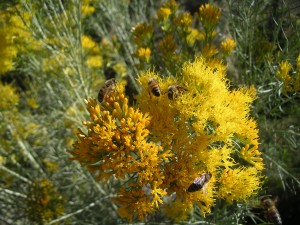 Rabbit Brush (Chrysothamnus) lights up its surroundings at the very end of summer with brilliant yellow flowers, and attracts multitudes of bees. See it in the Rock Alpine Garden, at Chatfield, and elsewhere around the Gardens.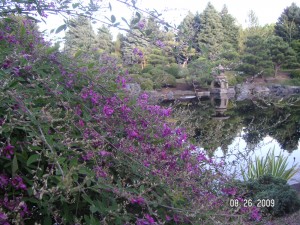 In the Japanese Garden, the bush clover (Lespedeza) is blooming in magenta drifts.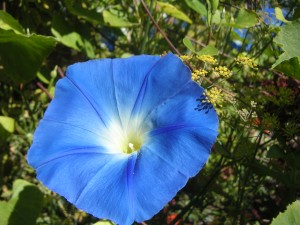 And can you resist this sky blue morning glory (Ipomoea), growing in Le Potager?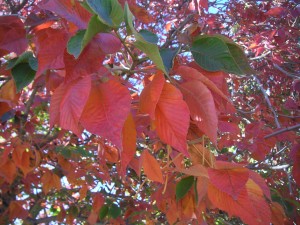 Fall Color
To see that fall really is around the corner, take a long view of the grounds from the Green Roof or the Mordecai Children's Garden; you'll see how the trees and grasses are heading towards golden.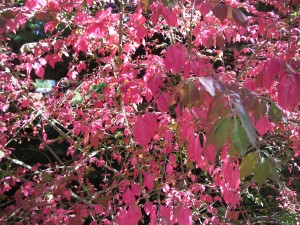 Or take an up-close look at early turners such as the buckeyes (Aesculus glabra) in South African Plaza, or Euonymous in the Japanese Garden.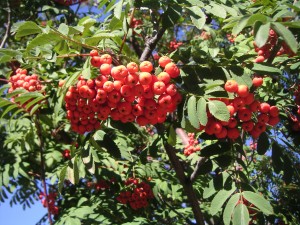 And admire the orange berries of mountain ash (Sorbus aucuparia) in the Rock Alpine Garden and elsewhere. This is just the beginning of the fall palette; come back for much more over the next couple months!